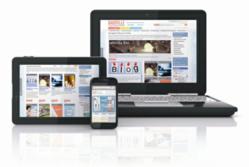 We want to become the premiere resource for employee recognition ideas and information online.
Grand Rapids, MI (PRWEB) January 24, 2012
Baudville, the leading provider in day-to-day recognition and award solutions for schools and the workplace, has launched a new Recognition Resource Center on Baudville.com. The launch is an update of an existing knowledge base regarding employee recognition ideas, tips, and best practices. Changes to the website are designed to help visitors find more relevant information more quickly.
Baudville's Recognition Resource Center is the go-to place for hundreds of ideas to inspire teams and recognize employees. Employee recognition ideas are available in a variety of formats, including articles, eBooks, downloads, recorded webisodes, videos, and more. The articles provide industry-specific information for business, healthcare, education, and non-profit organizations.
The Recognition Resource Center is easily accessible to all visitors. New page and layout designs make information more attractive and easy to find. Plus, visitors to Baudville.com can access all the content in the Recognition Resource Center for free. No log-in or registration is required.
Visitors will be able to find information faster in the new Recognition Resource Center thanks to an expandable navigation menu. The navigation can be used to browse information by type or topic, and all the content has been carefully categorized to deliver the most relevant information.
"It's our hope that more customers will begin to utilize the Recognition Resource Center to its full potential by linking to it from their company websites," said Baudville President and CEO Brad Darooge. "We want to become the premiere resource for employee recognition ideas and information online, and our new Recognition Resource Center will help us achieve that goal."
As part of the Recognition Resource Center launch, visitors can now download the recently released Team Up! eBook for free. The book is full of employee recognition, customer service, and ice breaker activities for teams.
About Baudville
Baudville, the place for daily recognition, continues to be the leading innovator in day-to-day recognition solutions. Baudville's day-to-day recognition solutions appeal to today's increasingly diverse workforce with contemporary designs and relevant messaging, motivating and engaging workplaces world-wide. Baudville has been declared one of the best companies to work for in its area and strives to create the ultimate work experience for its employees.
For more information, visit http://www.baudville.com/recognition-resource-center.
###