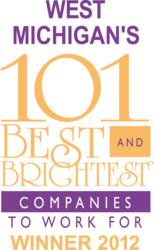 We're excited to be recognized once again as an outstanding West Michigan workplace.
Grand Rapids, MI (PRWEB) March 27, 2012
Baudville, the leading provider in employee recognition and award solutions for schools and the workplace, is proud to announce it has been named one of West Michigan's 101 Best and Brightest Companies to Work For. The Michigan Business and Professional Association (MBPA) annually bestows the honor upon companies that distinguish themselves as having the most innovative and thoughtful human resources approach. Baudville has won the award five times in the past six years.
"We're excited to be recognized once again as an outstanding West Michigan workplace," said Baudville President and CEO Brad Darooge. "Winning awards is obviously great but for us it's another reminder of how incredible our employees are. Our team is definitely what makes Baudville one of the best!"
Even though the official award ceremony isn't until May 3, Baudville's 90-plus employees have already celebrated the award with a week of casual days, a highly coveted reward. Darooge plans to continue the celebration. As a leader in employee recognition, Baudville takes its awards very seriously. Previous 101 Best and Brightest awards have been commemorated with treats personally delivered to employees by the CEO and CFO.
"We are honored to recognize the efforts of this year's 101 Best and Brightest companies. These companies have created impressive organizational value and business results through their policies and best practices in human resource management. This award has become a designation sought after by hundreds of West Michigan area companies and is a powerful recruitment tool in the drive to attract and retain exceptional employees," said Jennifer Kluge, MBPA president.
West Michigan's 101 Best and Brightest Companies to Work For practice innovative strategies and represent best practices in human resources in industries as diverse as the automotive, insurance, hospitality, communications, and nonprofit. Winners are selected after an independent research firm evaluates each entry based on an employee engagement survey and key measures in eleven categories, such as employee engagement, compensation, employee recognition, and diversity.
"Our employees are very excited about this award," said Darooge. "We are already gunning for a place on the list next year!"
About Baudville
Baudville, the place for daily recognition, continues to be the leading innovator in employee recognition solutions. Baudville's day-to-day and formal recognition solutions appeal to today's increasingly diverse workforce with contemporary designs and relevant messaging, motivating and engaging workplaces world-wide. Baudville has been declared one of the best companies to work for in its area and strives to create the ultimate workplace experience for its employees.
For more information about Baudville's employee recognition gifts and best practices, visit Baudville.com.