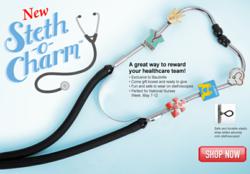 We're very excited to offer the exclusive Steth-o-Charms line of gifts for nurses and healthcare professionals,
Grand Rapids, MI (PRWEB) April 11, 2012
In the new economy, innovation can begin anywhere. Baudville embraced this concept when it was contacted by Jessica Muraco, an entrepreneurial Michigan mom with an idea for new healthcare appreciation gifts. As the leading provider in day-to-day recognition and award solutions for education, healthcare, and business industries, Muraco knew Baudville would be the perfect company to produce and distribute her stethoscope charms that had become popular gifts for nurses at local pediatrician offices and nursing conferences.
Baudville renamed Muraco's product Steth-o-Charms, and the stethoscope charms have been developed in twelve of Baudville's most popular healthcare lapel pin designs. The charms slide easily onto stethoscope ear tubes and an elastic backing keeps charms securely in place.
"We're very excited to offer an exclusive line of gifts for nurses and healthcare professionals," said Kristy Sherlund, Baudville VP of Product and Merchandising. "Steth-o-Charms are an innovative addition to our healthcare appreciation gifts, and we're excited to be partnering with Jessica on this new product line."
Steth-o-Charms are great gifts for nurses and doctors who can use them to personalize their stethoscopes. The charms allow healthcare professionals to easily identify individual stethoscopes in a busy office, start conversations with patients, and provide a welcome distraction to young patients.
The design for Steth-o-Charms originated out of Muraco's experience in the dental field and her desire to stay connected to the healthcare industry as a stay-at-home mom. By partnering with Baudville, Muraco is able to increase Steth-o-Charms' market exposure while lowering costs.
"Using Baudville's healthcare lapel pin designs as stethoscope charms was my original goal," said Muraco. "And now Steth-o-Charms are going to be on a nationally distributed catalog cover. It's more than I ever expected. I can't wait to see how they do."
Steth-o-Charms make great gifts for nurses or doctors during National Doctor's Day or National Nurses Week. Department managers can purchase a charm for every member of their team as part of the celebration. Baudville also recommends using them as part of a regular employee recognition program. Steth-o-Charms are sold for $8.95 each and are available for sale on the Baudville website.
Learn more about Steth-o-Charms on the Baudville website at http://www.baudville.com/pc/steth-o-charm.
About Baudville
Baudville, the place for daily recognition, continues to be the leading innovator in day-to-day recognition solutions. Baudville's day-to-day recognition solutions appeal to today's increasingly diverse workforce with contemporary designs and relevant messaging, motivating and engaging workplaces world-wide. Baudville has been declared one of the best companies to work for in its area and strives to create the ultimate workplace experience for its employees.