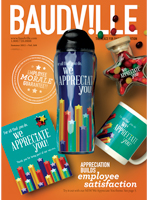 Our recognition themes are made up of exclusive artwork and messaging which we apply to gifts and tools.
Grand Rapids, MI (PRWEB) June 26, 2012
Employee recognition programs need to be as dynamic as the employees they serve, says Baudville, the leading provider in day-to-day recognition and award solutions for education, healthcare, and business. To help organizations keep their programs fresh and exciting, Baudville has released two new recognition themes and added items to its most popular lines of appreciation gifts.
Baudville's proprietary recognition themes make employee recognition programs and events easy to create, says VP of Product and Merchandising Kristy Sherlund. "Our recognition themes are made up of exclusive artwork and messaging which we apply to gifts and tools," Sherlund explained." A theme makes your appreciation more effective because the repeated message reinforces the value or behavior you're recognizing."
The two new recognition themes are available this week on Baudville.com. New themes "You Rock" and "We Appreciate You" both have more than ten unique appreciation gifts that can be included in employee recognition programs. Sherlund believes the bright colors and timely sentiments will be popular with human resource professionals and managers.
"The responsibility of recognizing employees often falls to HR or middle managers who are extremely busy," explains Sherlund. "These two recognition themes give managers new options for encouraging their staff."
Baudville also expanded the Twist Top Tumbler drinkware product category and lapel pins which are popular appreciation gifts. Sherlund anticipates the Twist Top Tumblers to be a popular corporate gift for summer events. Thirty new lapel pin designs are also available for sale online. The new designs help managers keep their employee recognition programs fresh by regularly updating the appreciation gifts and awards.
"Product innovation and design is important at Baudville," said Sherlund. "Every product is designed to the highest level of design and practicality for our customers. We want to create great looking tools and gifts, and we want them to work well for our customers."
View all the new products on Baudville's website at http://www.baudville.com/pc/baudville-new-products.
About Baudville
Baudville, the place for daily recognition, continues to be the leading innovator in day-to-day recognition solutions. Baudville's day-to-day recognition solutions appeal to today's increasingly diverse workforce with contemporary designs and relevant messaging, motivating and engaging workplaces world-wide. Baudville has been declared one of the best companies to work for in its area and strives to create the ultimate workplace experience for its employees.