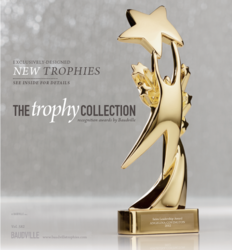 Employee awards are important for recognizing and retaining top talent.
Grand Rapids, MI (PRWEB) October 17, 2012
Organizations plan for employee award ceremonies in the fourth quarter, says Baudville, the leading provider of day-to-day recognition and award solutions for schools and the workplace. To enhance the award experience, Baudville has added 75 new recognition awards to its trophy collection. Of the new trophies, 48 are exclusive Baudville designs.
"We set an ambitious goal to offer our customers a large selection of new trophies and awards for their year end award ceremonies," said Baudville President and CEO Brad Darooge. "We especially take pride in the large number of exclusive designs we created for this launch."
Baudville's new recognition awards have innovative designs and unique features that can't be found anywhere else in the award industry. Some awards light up while others introduce bright and bold colors into the trophy collection. Several of Baudville's exclusive trophies incorporate well-known recognition themes into the design to complement organization's recognition programs.
"Employee awards are important for recognizing and retaining top talent," explained Darooge. "Our new trophies will give a fresh look to any organization's service anniversary, sales, or employee of the year awards."
The new recognition awards cover a range of price points, so organizations with any size budget can find a suitable award. More than ten of the new trophies cost less than $30 each to accommodate employee awards of all budgets.
In addition to Baudville's unique designs, the company offers same-day shipping and includes the cost of personalization in the price of the trophy. Customers can also create a custom award by adding their own logo or verse for free with a minimum order size. Baudville supports all its trophies with a 100% satisfaction guarantee policy.
The new trophies are available online and in a new 44-page trophy collection catalog. View the expanded trophy collection and 75 new recognition awards at http://baudvilletrophies.com.
About Baudville
Baudville, the place for daily recognition, continues to be the leading innovator in day-to-day recognition solutions. Baudville's day-to-day recognition solutions appeal to today's increasingly diverse workforce with contemporary designs and relevant messaging, motivating and engaging workplaces world-wide. Baudville has been declared one of the best companies to work for in its area and strives to create the ultimate work experience for its employees.