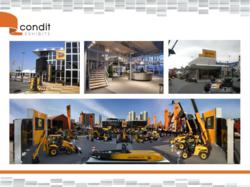 Denver, CO (PRWEB) July 26, 2012
The BAUMA Exhibition, held every three years at the New Munich Trade Fair Centre, continues to hold the global distinction as the undisputed leader in International Trade Fairs.
The BAUMA Exhibition is the perfect trade fair for Condit Exhibits to highlight its offerings to clients looking for temporary structures and double deck structures in any indoor or outdoor space. Condit's Space Building System and double deck structures are certain to be in high demand at BAUMA, providing clients with design options traditional temporary systems can't offer.
The Space Building System is the most sophisticated temporary structure system available for rent. It works in 5 and 6-meter sections that connect side by side and stack one on top of the other. Developed by a designer and engineer, this system allows users to be creative in a functional environment. There are two types of temporary rental structures on the market: those systems with fixed sizes and capabilities, and the Space Building System by Condit where such limitations do not exist. Condit also offers double deck structures that allow customers to create a mezzanine floor in any environment, indoors and outdoors.
On April 15, 2013, the 30th International Trade Fair for Construction Machinery, Building Material Machines, Mining Machines, Construction Vehicles, and Construction Equipment will begin in Munich. In 2010, BAUMA established a high standard by setting new records for the most exhibitors, the largest share of international participants, and the most exhibition space. BAUMA expects to strengthen its leading position again in 2013 with more than 555,000m² of exhibition space, 3,256 exhibitors, and 420,170 visitors in attendance.
Condit's rental systems offer exhibit houses, exhibitors, and event planners alike the ability to develop an extraordinary space in any environment, especially at BAUMA. Condit uses decades of experience working at outdoor exhibitions and events around the globe to successfully create and deliver unique semi-permanent environments of any size.
Whether you are looking for an individual structure or the complete package, Condit offers full turnkey solutions, as well as the ability to work with exhibit and event providers. Condit's supporting trade show and event structure services are tailored to meet each individual customer's needs. These services can include, but are not limited to:
Exhibit Installation and Dismantling coordination:

Labor
Equipment handling for cranes, forklifts, and scissor lifts
Exhibit Services and Logistical coordination:

Custom fabrication
Graphic design and production
Permitting, Engineering, Fire certificate
Electrical, Phone, Internet, and AV rental
Furniture rental
Freight handling
The ability to create a unique space specific to your brand is unlimited with Condit's temporary structures for exhibitions and trade shows. The Space Building System and double deck structures are the only options when it comes to creating the extraordinary.
About Condit Exhibits:
Condit Exhibits has been an industry leader in creating customized, memorable environments for trade shows and exhibitions through the use of high-quality temporary structures and exhibits. Condit has the expertise and experience to handle an event from start to finish, including design, fabrication, transportation, audio-visual, show floor services, and more. Condit Exhibits is headquartered in Denver, Colorado and has supporting offices around the United States and Europe. Since 1945, Condit has provided their clients with stunning exhibits and superior service to create an unmatched experience. For more information on Condit's unique Building Space System contact Sky Curl, Condit Exhibits International Business Director.