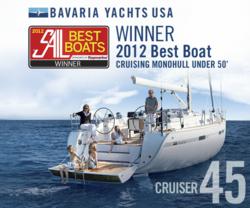 There's an awful lot for a modern cruising sailor to like in this boat
(PRWEB) December 08, 2011
Bavaria Yachts USA announced that the Bavaria Cruiser 45 has been chosen as SAIL Magazine's Best Boat 2012 Winner among cruising monohulls under 50ft. SAIL magazine's annual Best Boat Award recognizes the best new sailboat introduced into the North American market.
In the past six months, Bavaria Yachts has re-entered the US market with its well-respected, global sailboat brand. Bavaria Yachts USA opened its doors in Annapolis in June 2011, and premiered its newly designed Cruiser Series at the US Boat Show in October 2011. In a very short time, the Cruiser Series has met with success, accolades, and incredible enthusiasm in the US market. Bavaria's premium quality boats, competitive pricing, and innovative direct business model, has brought new energy to the recovery of the US sailing market. Bavaria Yachts USA plans to open additional direct locations in Rhode Island, Great Lakes, Northern California, Southern California, and Seattle, within the next two years.
Built in collaboration between Bavaria Yachts, Farr Yacht Design and BMW DesignworksUSA, the award-winning Cruiser 45 is a beautifully engineered yacht with elegant lines and a host of innovative features. Built to the exacting Germanischer Lloyd Certification, the new Bavaria 45 sets new standards in quality and design, while providing outstanding comfort and performance.
SAIL's Charlie Doane comments that "There's an awful lot for a modern cruising sailor to like in this boat". The spacious interior and styling are striking, and the quality of the build and finish are also highlighted in his video piece on sailmagazine.com. "Most of all," adds SAIL's Doane, "we like the way this boat sails."
The Bavaria Cruiser 45 is available for test sail or charter in the Caribbean or Annapolis, Maryland through Horizon Yacht Charters.
About Bavaria Yachts
The Bavaria Yachtbau shipyard is the single largest yacht production facility in Europe delivering over 2,000 high-quality sailboats per year to new owners throughout the world. Introducing a new business model for the industry, Bavaria Yachts USA is the sole importer, distributor and dealer for Bavaria Yachts in the US. This new business model provides new owners with "factory direct" pricing, boats built to personalized specifications, and typical purchase-to-delivery lead times of three months. Bavaria Yachts USA also offers an integrated, full-range customer experience from chartering to ASA learn-to-sail programs as well as a range of comprehensive yacht management services. Bavaria sailing yachts are 32' - 55' performance cruisers built by skilled craftsmen using computer-aided, state-of-the art manufacturing processes. Bavaria combines German engineering with collaborative design expertise from Farr Yacht Design and BMW DesignworksUSA. Teaming up with market leaders in yacht, ergonomic and interior design makes Bavaria best in class when it comes to delivering well built, safe, quality yachts with powerful lines and innovative features.
###