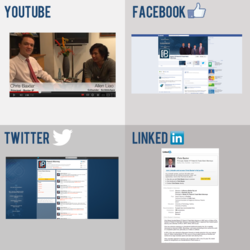 There are just too many people blogging and not enough people reading.
Sydney, NSW (PRWEB) August 14, 2012
What have the "Old Spice" YouTube campaign, Coca Cola "Share a Can" Facebook campaign and the Crust Pizza "Free Pizza Friday" Twitter campaign taught us about professional services marketing? Well a few brave firms are applying aspects of these campaigns to their marketing plans. They are putting out their necks in an attempt to build relationships with their increasingly web savvy clients through innovative strategies on social media channels.
In Sydney, one highly innovative patent attorney firm is doing just that. They've created an integrated social media presence with a vlog at the nexus of their content delivery.
"There are just too many people blogging and not enough people reading, we wanted to separate ourselves from the competition by providing relevant and informative material in a digestible video format", Chris Baxter Principal at Baxter IP.
Instead of email newsletters on changes in regulatory compliance, the team at Baxter IP tweets about topics such as licensing of ideas through to patent wars between well known brands, positioning the firm as a thought leader in the profession. This has led to television interviews on International business channels such as CNBC and Bloomberg.
Finally, clients of Baxter IP no longer have to call the office, they can message their questions about patent procedures via Facebook. This accessible and transparent approach has been welcomed by both clients and people looking to use the services of their firm.
Ultimately, great professional services firms are all about trusted relationships and what a lot of professional services firms don't yet understand is that social media is not about advertising, nor is it just for big brands, it's a tool individual professionals can use to nurture relationships with clients.