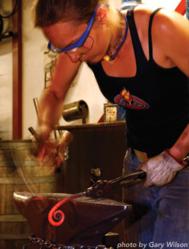 Gift certificates for our classes make excellent, flexible gifts for all the creative people on your list who like to direct their own learning.
(PRWEB) November 15, 2011
Those looking for a unique gift for someone special or the proverbial guy or gal who has everything, should take a peek at The Crucible's 2011 Holiday Gift Guide online at http://thecrucible.org/component/content/article/35-overview-of-classes/415-gift-guide. Chock-full of ideas for one-of-a-kind, experience-based gifts that everyone can enjoy, these gifts will last forever as fond memories.
"Crucible classes are true gifts for the holiday season," said Elissa Roy, Crucible Registrar. "Gift certificates for our classes make excellent, flexible gifts for all the creative people on your list who like to direct their own learning."
To make things even easier, The Crucible suggests checking out the following options:
Gift Idea 1: A Crucible Class
Creative kids and adults alike will love the gift of a Crucible class. The skilled instructors cover a range of arts not found anywhere else, from glass blowing to neon light projects to fire spinning.
Gift Idea 2: Tickets to MACHINE: A World Premiere Fire Opera
The Crucible is blazing new territory in performance art with its latest fire opera: MACHINE. This spectacular performance features five opera singers, a rock singer, and percussionists who "play" the scaffolding-like set. Visual effects include a molten metal pour; fire performers; and industrial artists, such as glass blowers and blacksmiths.
MACHINE is set in a fiery industrial universe in which workers have sold themselves into a lifetime of servitude. When one worker regains his power of self-determination, the story ignites into an explosive brew of escape plots, alliances and unlikely love interests.
Gift Idea 3: Crucible Membership
Crucible members are a vital, vibrant community of artists, art lovers, artisans, innovators and educators. A Crucible membership entitles the holder to early registration, discounts on Crucible classes and events, and priority access to special events. Membership also supports Crucible's industrial art education programs.
Gift Idea 4: Crucible Gift Certificates
Gift certificates are a stress-free way to ensure a loved one gets exactly what they want. Gift certificates can be purchased for any amount over $50, and they can be used toward Crucible class tuition, events, and membership fees.
Gift Idea 5: Crucible Merchandise
The Crucible's CafePress store (http://www.cafepress.com/thecrucibleoakland) offers a nice selection of Crucible merchandise including hoodies, aprons, coffee cups, hats and t-shirts for humans, and doggie t-shirts and bowls for canine companions.
Gift Idea 6: Handmade Goods from Local Artists
On Saturday, December 10 from noon to 6 pm and Sunday, December 11 from noon to 4 pm, The Crucible will host its annual Holiday Gifty Art Sale and Open House inside The Crucible's 56,000 square-foot studio, where furnaces roar and sparks fly.
Fiery performances will light up the stage as guests explore a maze of 70 vendors selling unique locally handcrafted items, while the staff and students put on live demonstrations of welding, glass working, metal casting, blacksmithing and more.
Those who purchase a membership, class, or a gift certificate by December 29, 2011 will receive a special gift to keep for themselves: a $30 voucher that can be applied to any Crucible class tuition of $100 or more. Purchases can be made by phone by calling (510) 444-0919 or in person at The Crucible Mondays through Thursdays from 10 am to 6 pm or Fridays from 10 am to 2 pm.
About The Crucible
The Crucible is an educational facility that offers Bay Area art classes in the fine and industrial arts to people at all skill levels and original Bay Area team building events. What started in 1999 in an empty 6,000 square-foot warehouse in Berkeley has now grown to a 56,000 square-foot building in the heart of West Oakland. They offer imaginative and constructive Bay Area kids activities.
The Crucible offers instruction in industrial and fine art for every level from beginning and intermediate to advanced levels in formats ranging from three-hour tasters to ten-week programs. Prices vary by course and duration. Class fees include tuition, studio fees, materials, tool access and safety training. There are no shopping lists for supplies or hidden costs.
###