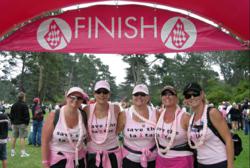 Walnut Creek, CA (Vocus/PRWEB) June 22, 2011
On June 25th, Walnut Creek Mayor Cindy E. Silva is special guest and speaker at this year's Mercedes-Benz of Walnut Creek's Annual Pancake Breakfast Saturday June 25th from 8 to 11 am. The Bay Area new car and pre-owned vehicle dealer is located at the intersection of Parkside Drive and Broadway (off Main) in Walnut Creek.
For over 4 years, Mercedes-Benz of Walnut Creek staff and employees have participated and supported The Annual Avon Walk for Breast Cancer. Last year the Bay Area car leasing and sales leader raised $11,000.
"My step mother lost her battle with breast cancer 4 years ago last month and my friends knew how much it meant to me and started walking with me," said Sonya Hallmark business manager. "Now one year ago this month I found out I had breast cancer and more friends and now customers started to walk in my name."
Since Hallmark discovered she had breast cancer, she has completed all of her treatments and is now cancer-free. To celebrate and support other women at-risk, this year Hallmark recruited a record number of fellow Mercedes-Benz of Walnut Creek employees, friends and customers to raise money. Under the name "Team Mercedes-Benz of Walnut Creek," the pancake breakfast fundraiser should generate more interest and donations than ever before.
Mercedes-Benz of Walnut Creek General Manager Jayson Arnold, with over 32 years of automobile experience, knows what it takes when it comes to luxury automobiles and community involvement. "I am excited to be a part of the Walnut Creek community in every way to now sponsoring our most important breast cancer fundraiser local event of the year," Arnold said.
The Avon Walk for Breast Cancer is the Avon Foundation's largest annual fundraising initiative, and also one of the largest fundraising programs in the country. From 2003 through 2010, the Avon Walks raised more than $380 million - funds that are directly saving lives. The Avon Walk for Breast Cancer also raises extraordinary awareness as participants spend an entire weekend walking 39 miles through cities and towns around the country. In 2010 alone, thousands of donors supported more than 21,000 Walkers and Crew raising more than $55 million in the national 9-event series!
Mercedes-Benz of Walnut Creek is proud to serve the best customers in the Bay Area, and welcome new customers. In addition to Car sales and leases, the dealership employs 26 factory-trained technicians (22 master certified), who represent over 380 years of combined experience.
For more information about the pancake breakfast fundraiser or any of Mercedes-Benz of Walnut Creek's vehicles or services, call them at (888) 655-1562 or visit them on the web at mb-walnutcreek.com.
About Mercedes-Benz of Walnut Creek
Mercedes-Benz of Walnut Creek is a Bay Area car dealer specializing in new and pre-owned Mercedes-Benz vehicles. The dealership also leases vehicles, sells, pre-owned vehicles from other car makers and operates a high-quality parts and service department.
###