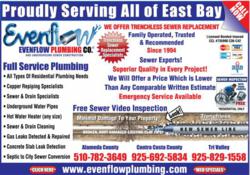 We decided to have a new website designed because we wanted something people could use more easily. If someone wants to know more about Bay Area sewer repair we want to make it easy
San Francisco, CA (PRWEB) February 14, 2013
Bay Area Sewers is proud to announce the release of their website. The website makes it easier for users to find the information they are looking for. The website focuses primarily on Bay Area and Oakland sewer repair and replacement. Consumers can find information ranging from trenchless sewer replacement to hydro-jetting. "We decided to have a new website designed because we wanted something people could use more easily. If someone wants to know more about Bay Area sewer repair we want to make it easy. We have pages dedicated specifically to things like trenchless sewer replacement, where we explain the process in detail," Tony of Bay Area Sewers said.
Along with the release of the new Bay Area sewer repair website a new video inspection coupon is now being offered. Bay Area Sewers will provide residential customers with a video sewer inspection for no cost if they have an exterior cleanout available. "We are offering the new video sewer inspection discount because it allows us to help people correctly identify the problem with their sewer line. In many cases we discover that only a simple hydro-jetting is needed to clear the line," says Tony. Hydo Jetting is a form of Oakland sewer repair where high pressure water is sprayed into the sewer line. The water moves at around 3500 psi and cuts through any blockage including tree roots. According to Tony the only reason this solution doesn't work is if the sewer line is deteriorated too much to handle the high pressure water.
Bay Area Sewers is a full service Oakland sewer repair company with over 17 years of experience handling sewer repair in Oakland and surrounding areas including all of Alameda and Contra Costa Counties. The new website contains informative sewer repair and replacement videos which includes a detailed description of directional drilling. The new Oakland sewer repair website can be found here.
"We are really excited about the new website and we welcome any responsible feedback to the site. We are also hoping a lot of people take advantage of the new video sewer inspection coupon we are offering," said Tony. To take advantage of the new sewer inspection offer all consumers need to do is call Bay Area sewers to schedule service, an exterior cleanout must also be present.
To learn more about Bay Area Sewers please give them a call, visit the new website, read their press releases, watch their informative videos or read their many positive online Oakland sewer repair reviews on trusted consumer review sites like Google, Yahoo and Yelp.
Bay Area Sewers
4200 Park Blvd
#115
Oakland, CA 94602
(510) 601-1771