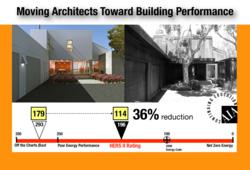 Energy efficiency begins with the elimination of unintentional waste
Fremont, CA (PRWEB) February 04, 2012
Paul Welschmeyer, principal of Bay Area architectural design firm Paul Welschmeyer Architects, is now available to give presentations at California architecture firms on the importance of integrating increased energy efficiency measures into residential and commercial architectural designs. Welschmeyer's presentation explains the benefits of incorporating applied building science methods, energy modeling and HERS II Rating services into the firm's professional practices, which will enhance architects' ability to eliminate unintentional energy waste in the buildings they design. This consultation service is coordinated with the launching of the Energy Upgrade California (EUC) campaign program and is focused on direct informational contact with the leadership groups of architectural firms in California.
"Energy efficiency begins with the elimination of unintentional waste," says Welschmeyer.
The presentation, "Moving Architects Toward Building Performance," is given in-house to architecture firm principals. Welschmeyer begins by laying out the goal of eliminating unintentional waste, and the architects' role in making this happen. He explains the HERS Index for home energy efficiency and applied building science, lays out how understanding the dysfunctions of a house is the first step in understanding the problems with non-residential buildings, and gives examples of applied building science knowledge with architectural design. He gives an overview of California energy policy in the upcoming decade, and recommends steps firms can take to ensure their practice is prepared for industry changes in the coming years.
Welschmeyer is well known as a leading Bay Area green architect and was recently appointed as the acting Liaison to the California Energy Commission (CEC) for the American Institute of Architects California Council (AIACC). He is also the first architect in California to be certified as a HERS II Rater, which is a Special Inspector certification granted by the CEC through the Providership of CalCERTS. In addition to being a certified Green Point Rater for New and Existing homes through Build it Green, he has completed BPI training, as a Building Analyst / Shell Specialist.
To schedule a presentation by Paul Welschmeyer on incorporating energy efficiency into architectural practices, or for information about any of Paul Welschmeyer Architects' other services, call (510) 825.0783 or visit pwarchitects-sf.com.
About Paul Welschmeyer Architects
Paul Welschmeyer Architects is a small San Francisco Bay Area architectural firm that was founded in 1991 and specializes in three core areas of architectural design services: Residential, Architectural Interiors, and Adaptive Reuse & Historic Works; all of which incorporate energy efficient/green building strategies, ranging from voluntary efforts to jurisdictional requirements. The breadth and diversity of the practice is supported by 28 years of experience serving the full spectrum of clientele, from corporations to individual homeowners. They serve all communities in the San Francisco Bay Area.
###