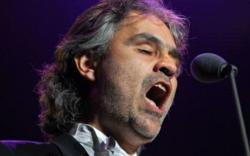 We guarantee every ticket we sell; when you buy from us, you can be assured they will get you into the concert
Campbell, CA (PRWEB) October 20, 2012
Top Notch Seats, a San Francisco Bay Area ticket broker, is now selling Andrea Bocelli concert tickets to each of his shows on his upcoming tour this November and December. Since the incredible tenor cemented his place atop the classical music world, Andrea Bocelli concerts have been very hot tickets, and anyone with a notion to attend one of the seven upcoming North American tour dates would be wise to visit TopNotchSeats.com
Top Notch Seats is a trusted source for great tickets to all Andrea Bocelli concerts. They have been in business since 1993 and are a member of the Better Business Bureau. "We guarantee every ticket we sell; when you buy from us, you can be assured they will get you into the concert," says Paul Hillig of Top Notch Seats. "All our tickets are 100% legitimate and guaranteed. If you need help deciding what the best seats are for you, give us a call. We are always here to help."
Bocelli is a masterful singer and performer, and the fact that he does everything without the benefits of sight make his accomplishments even more impressive. Born in Italy in the late-1950s, Bocelli showed natural musical talents from a very young age. He learned to play several instruments before he lost his sight completely at the age of 12. His journey from a village in Italy to the top of the International sales charts was paved with talent, hard word and a belief in himself.
The Bocelli camp have done a good job spacing his large handful of North American shows across the nation, allowing throngs of Bocelli fans the opportunity to procure Andrea Bocelli tickets to an Andrea Bocelli concert. Bocelli will perform a show in London for his UK fans on Thursday, November 15th, and he will arrive on US soil in the following days. A Friday, November 23rd show at the HP Pavilion in San Jose will mark the beginning of the North American stretch, and Bocelli will play the upscale MGM Grand Garden Arena in Las Vegas, Nevada the following evening.
Bocelli fans in Houston and Dallas should prepare themselves for a visit from the living legend in the final days of November, and Rosemont, Illinois will be the location of a December 2nd show. Bocelli will become one of the first classical musicians to christen the Barclays Center, a new lavish stadium in the heart of Brooklyn. The final stop scheduled for the tour will be on Friday, February 8th in Sunrise, Florida. Anyone wanting to get their hands on Andrea Bocelli tickets should pay a visit to TopNotchSeats.com at their earliest convenience.
For more information about Andrea Bocelli concert tickets, visit topnotchseats.com.
About Top Notch Seats
Operating from the heart of Silicon Valley since 1993, Top Notch Seats is an online leader in secure ticket sales. TNS supplies audiences with quality seating and tickets to all major concerts, theatre and sports events in the Bay Area and around the nation.
Top Notch Seats specializes in providing Bay Area concert tickets with a wide variety of seating options, which enables customers to choose their favorite vantage point. TNS is a licensed Bay Area ticket broker engaged in the business of buying and selling first-rate tickets. They do not sell tickets at face value; ticket prices are often well above face value and reflect the cost of obtaining quality seating.