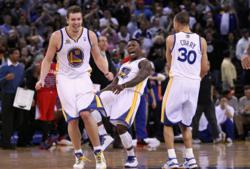 We guarantee every ticket we sell; when you buy from us, you can be assured they will get you into the game
Campbell, CA (PRWEB) November 13, 2012
Bay Area ticket broker Top Notch Seats is proud to announce that they are selling Golden State Warriors tickets to all home games at the Oracle Arena from now through the end of the season. If the talented team is able to make the playoffs as many expect them to, fans can be sure that Top Notch Seats will have those tickets available as well. Top Notch Seats carries the very best Golden State Warriors tickets that put fans close enough to the action to read the label on the basketball. They also offer a wide selection of tickets throughout the Oracle Arena, both lower and upper level seats.
Top Notch Seats is a trusted source for great tickets to all Golden State Warriors games. They have been in business since 1993 and are a member of the Better Business Bureau. "We guarantee every ticket we sell; when you buy from us, you can be assured they will get you into the game," says Paul Hillig of Top Notch Seats. "All our tickets are 100% legitimate and guaranteed. If you need help deciding what the best seats are for you, give us a call. We are always here to help."
The Warriors have been a fast-paced, entertaining basketball team for many years, but this year's team has reason to believe that they can compete for the league's most coveted trophy. The roster is filled with youthful players that are just now beginning to enter their prime, and head coach Mark Jackson has the team and fan base excited about the future. Stephan Curry is a baby faced player that will likely lead the Warriors in scoring if he is able to stay healthy. Curry is a menace for opposing defenders, and his slashing abilities and lightning quick speed allow him to get open and take shots from all over the court.
David Lee is averaging nearly 15 points a game and almost 10 rebounds per game a few weeks into the season. If he can keep up that pace this team will more than likely make the playoffs. Rookie center Festus Ezeli has easily found a roll on this Warrior squad, and the upbeat crowd favorite currently leads the team in blocked shots.
Golden State Warriors basketball tickets are steadily increasing in popularity, but incredible deals can always be found at Top Notch Seats. Upcoming home games against the Los Angeles Lakers, Boston Celtics, and Miami Heat are sure to be hot tickets, so anyone interested in obtaining Warriors tickets should visit TopNotchSeats.com sooner than later, before they sell out.
For more information about Golden State Warriors tickets, visit topnotchseats.com.
About Top Notch Seats
Operating from the heart of Silicon Valley since 1993, Top Notch Seats is an online leader in secure ticket sales. TNS supplies audiences with quality seating and tickets to all major concerts, theatre and sports events in the Bay Area and around the nation.
Top Notch Seats specializes in providing Bay Area concert tickets with a wide variety of seating options, which enables customers to choose their favorite vantage point. TNS is a licensed Bay Area ticket broker engaged in the business of buying and selling first-rate tickets. They do not sell tickets at face value; ticket prices are often well above face value and reflect the cost of obtaining quality seating.