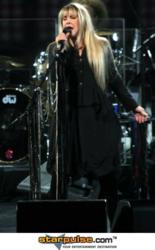 Tickets to see Stevie Nicks perform at these intimate venues are sure to go fast, which will make them more difficult to find for those who put off buying them
Campbell, CA (PRWEB) September 23, 2011
After over 40 years of touring the world and performing at some of the most well-known and largest venues on the planet, rock legend Stevie Nicks recently announced a small series of West Coast shows at quaint locales that will allow her fans to experience her amazing voice in a very intimate setting. Top Notch Seats, the premier Bay Area ticket broker, is proud to announce availability of Stevie Nicks concert tickets for sale at affordable prices.
Many fans of the Phoenix-born singer have had a chance to experience her talents live and in person, but rarely—if ever—has she played in a setting that holds only a few thousand patrons. Her Wednesday, October 5th show at the beautiful Mountain Winery in Saratoga—only a fifteen minute car ride from downtown San Jose—affords one of those once-in-a-lifetime opportunities to see a super star up close and personal.
In addition to seeing her at the Mountain Winery concert, Stevie Nicks' fans in the Bay Area will also have two more chances to see her on Saturday, October 8th and Sunday, October 9th when she performs with Michael Grimm at The Fillmore in San Francisco.
The City National Grove of Anaheim will then play host to Nicks and her fans on Wednesday, October 12th. The final show of the mini-tour takes place on Saturday, October 15th at The Joint in Las Vegas.
"Tickets to see Stevie Nicks perform at these intimate venues are sure to go fast, which will make them more difficult to find for those who put off buying them," said Paul Hillig of Top Notch Seats. "Top Notch Seats recommends seizing this opportunity to buy Stevie Nicks concert tickets now before the window of opportunity closes."
Nicks has enjoyed a fast-paced life and hugely successful career. As a result of her father's job as a corporate executive, Nicks got used to touring the country at a young age. She lived in a half dozen western cities during her youth.
After she met Lindsey Buckingham in the mid-1960s, Nicks' career took off. Within a decade she was the front woman for the wildly popular band Fleetwood Mac.
While the 63-year old has always had great stage presence and still has a smooth and sultry voice, she certainly won't be performing forever. This may very well be one of the last chances to get to see Stevie Nicks perform live on stage.
For more information about the Stevie Nicks concert or any other concert or sports event, visit Top Notch Seats online at TopNotchSeats.com.
About Top Notch Seats
Top Notch Seats is located in Campbell, California, adjacent to the city of San Jose, in the heart of Silicon Valley. TNS has been in business since 1993, providing quality seating and tickets to all major concerts, theatre and San Francisco Bay Area sports events in the San Francisco Bay Area and nationwide.
Top Notch Seats specializes in providing Bay Area concert tickets with a wide variety of seating options to customers, which enables them to choose their favorite vantage point. TNS is a licensed Bay Area ticket broker engaged in the business of buying and selling first-rate tickets. They do not sell tickets at face value; ticket prices are often well above face value and reflect the cost of obtaining quality seating.
###