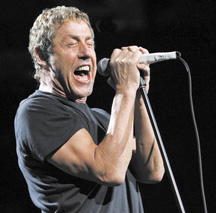 Northern California residents will want to get their hands on Roger Daltrey tickets to a Friday night show on October 21st at the San Jose Civic Auditorium
Campbell, CA (PRWEB) October 07, 2011
Top Notch Seats, the premier Bay Area ticket broker, is proud to announce the availability of Roger Daltrey concert tickets to each destination of a 16-show tour that spans the part of the United States and Canada over the course of the next month. In his 40+ years in music, the 67-year-old has gained fans from all walks of life and from every corner of North America, so Roger Daltrey concert tickets are certain to be a hot item.
Since joining up with Pete Townshend to form the legendary band "The Who" in 1965, Roger Daltrey has been offering up his amazing breadth of musical talent to thankful fans all over the world. Intent on displaying his capabilities as a soloist, Daltrey began performing alone in the early 1970s, while his band was still gaining international fame.
For those interested in seeing Daltrey at either of his two California shows, the time to buy Roger Daltrey concert tickets is now. After shows in Indiana, Missouri and Texas, the tour makes its way into Southern California for an October 19th show at the comfortable and modern Nokia Theatre, which is located directly across the street from the Staples Center in downtown Los Angeles.
"Northern California residents will want to get their hands on Roger Daltrey tickets to a Friday night show on October 21st at the San Jose Civic Auditorium, which is sure to be full of spirited fans from all over the Bay Area," said Paul Hillig of Top Notch Seats. "This area boasts one of the performer's largest fan bases outside of the United Kingdom.
The confident and bold Daltrey has never been afraid of taking charge and controlling a show, and his inherent leadership skills are very apparent in his solo act, which often has audiences dancing in the aisles. Always passionate about his music, Daltrey actually grew up in the same London suburb as Townshend and fellow band member John Entwistle.
Although his British roots shine through in his appearance, speech and songs, Daltrey clearly feels quite at home in what Brits often call "the other side of the pond."
For more information about the Roger Daltrey concert or any other concert or sports event, visit Top Notch Seats online at TopNotchSeats.com.
About Top Notch Seats
Top Notch Seats is located in Campbell, California, adjacent to the city of San Jose, in the heart of Silicon Valley. TNS has been in business since 1993, providing quality seating and tickets to all major concerts, theatre and San Francisco Bay Area sports events in the San Francisco Bay Area and nationwide.
Top Notch Seats specializes in providing Bay Area concert tickets with a wide variety of seating options to customers, which enables them to choose their favorite vantage point. TNS is a licensed Bay Area ticket broker engaged in the business of buying and selling first-rate tickets. They do not sell tickets at face value; ticket prices are often well above face value and reflect the cost of obtaining quality seating.
###