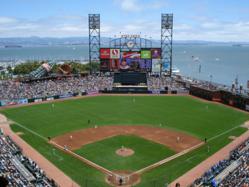 Anyone who is a true fan of the game of baseball owes it to themselves to make a visit to AT&T Park at some point in time, and your chance is now
Campbell, CA (PRWEB) May 11, 2012
See the San Francisco Giants in action this season as they take on some of MLB's biggest contenders at AT&T Park, with tickets from Top Notch Seats, the premier Bay Area ticket broker. Fans can get tickets to all the remaining home games at http://www.topnotchseats.com.
"Anyone who is a true fan of the game of baseball owes it to themselves to make a visit to AT&T Park at some point in time, and your chance is now," said Paul Hillig of Top Notch Seats.
For those that have not yet visited AT&T Park -- which rests on the literal edge of Western civilization -- the entire complex is truly an homage to the sport. Willie Mays Plaza flanks the main entrance, providing perfect photo-ops in front of a large bronze statue of the Giant legend.
The inside of the ballpark is even more impressive, featuring an incredible array of gourmet and traditional foods and a Club Level that has its own private and comfortable amenities.
Unlike most of the parks in the big leagues, the bleacher section at AT&T Park is very popular, and folks that are able to get their hands on SF Giants Tickets in the aluminum seats are treated to incredible views of the bay and a sizable recreation area where kids can burn off energy before, during or after the game.
San Francisco Giants tickets have been highly coveted since the park opened in 2000, and the team's Championship year in 2010 only increased their popularity. Even so, tickets all over this incredible park are still very reasonably priced. Sections on top of the right field wall and in the third deck along the third base side also provide stunning panoramic views of the bay and the nearby Bay Bridge.
Historic slugger Barry Bonds may be gone and almost entirely forgotten, but the new breed of Giants is a young, talented and hungry bunch. Coached by longtime skipper Bruce Bochy, the team very regularly turns in a gritty and winning performance for their hometown fans.
Purchasing SF Giants Tickets from Top Notch Seats and attending a game will also put fans in the middle of the action in downtown San Francisco. Dozens of worthwhile restaurants and bars are within walking distance of home plate.
For more information about the Lady Antebellum concert tour or any other concert or sports event, visit Top Notch Seats online at TopNotchSeats.com.
About Top Notch Seats
Operating from the heart of Silicon Valley since 1993, Top Notch Seats is an online leader in secure ticket sales. TNS supplies audiences with quality seating and tickets to all major concerts, theatre and sports events in the Bay Area and around the nation.
Top Notch Seats specializes in providing Bay Area concert tickets with a wide variety of seating options, which enables customers to choose their favorite vantage point. TNS is a licensed Bay Area ticket broker engaged in the business of buying and selling first-rate tickets. They do not sell tickets at face value; ticket prices are often well above face value and reflect the cost of obtaining quality seating.