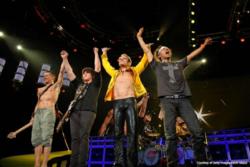 Given the fact that the group recently postponed the back half of their tour schedule, getting your hands on tickets to what is sure to be a memorable night has just become more important
Campbell, CA (PRWEB) May 19, 2012
Van Halen concert tickets for the legendary band's 2012 North American tour are now available online from Top Notch Seats, the premier Bay Area ticket broker. Tickets can also be purchased on mobile devices at http://www.topnotchseats.com.
"Given the fact that the group recently postponed the back half of their tour schedule, getting your hands on tickets to what is sure to be a memorable night has just become more important," said Paul Hillig of Top Notch Seats. "Early reviews are that the group is rocking audiences from start to finish. "
Van Halen was formed in Pasadena in the early-1970s, but their first big break didn't come until 1978, when the release of their first album garnered them national attention and high praise from critics. In the years that followed, the band became known for living fast-paced lifestyles, getting involved in various controversies and giving stellar live performances.
The scope of the group changed over the decades, but lead guitarist Eddie Van Halen has been a constant in the mixture, providing a bevy of legitimate musical talents and a sex appeal that has brought him millions of female fans from all over the globe.
Lucky people that are able to get their hands on tickets to Van Halen concerts such as the June 1st show at the Staples Center in Los Angeles or the June 3rd show at Oakland's Oracle Arena will be treated to a show that represents the past, present and future of rock n' roll. Their June 5th stop at the HP Pavilion in San Jose will likely be one of the most in demand.
The notorious David Lee Roth is now back in the fold and the band that he once detested has welcomed him back with open arms. Eddie's son Wolfgang joined the band in 2006 after the departure of Michael Anthony, and he has fit in nicely. The on-stage presence of both father and son is unprecedented in the modern music industry.
"Don't miss out on your chance to purchase a few Van Halen concert tickets," said Hillig. "If you are considering giving a gift of a few tickets to Van Halen to a friend or loved one, know that you are on the verge of giving them their favorite gift of the year."
For more information about the Lady Antebellum concert tour or any other concert or sports event, visit Top Notch Seats online at TopNotchSeats.com.
About Top Notch Seats
Operating from the heart of Silicon Valley since 1993, Top Notch Seats is an online leader in secure ticket sales. TNS supplies audiences with quality seating and tickets to all major concerts, theatre and sports events in the Bay Area and around the nation.
Top Notch Seats specializes in providing Bay Area concert tickets with a wide variety of seating options, which enables customers to choose their favorite vantage point. TNS is a licensed Bay Area ticket broker engaged in the business of buying and selling first-rate tickets. They do not sell tickets at face value; ticket prices are often well above face value and reflect the cost of obtaining quality seating.