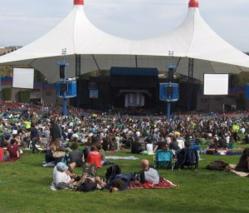 The amphitheater is a little slice of musical heaven located in the inner shore along the southern edge of the San Francisco Bay
Campbell, CA (PRWEB) July 04, 2012
Bay Area ticket broker Top Notch Seats is now offering a wide selection of tickets to 2012 concerts being held at the Shoreline Amphitheatre in Mountain View, California, including Steve Miller Band, KISS, Rock the Bells, Toby Keith, Big Time Rush and many more.
"The amphitheater is a little slice of musical heaven located in the inner shore along the southern edge of the San Francisco Bay," says Paul Hillig of Top Notch Seats. "The venue is one of the most heralded in the North American tour circuit and your chance to secure quality tickets at reasonable prices is here now at your fingertips."
Since it opened in 1986, some of the world's biggest musical stars have performed their craft underneath the iconic double-spires white tent at Shoreline Amphitheatre. As a result, Shoreline concert tickets have been some of the hottest items in the Bay Area for nearly three decades.
Shoreline's summer and fall schedule will bring a bevy of North America's favorite bands and soloists to the stage, and Shoreline concerts are almost always sold out well in advance of the performance date. The amphitheater will certainly be full of eager young fans come July 22nd, as the boy band Big Time Rush will be performing.
The Steve Miller Band, Brad Paisley and Toby Keith will all be showing off their latest hits as well as the classics that their large fan bases expect. A mid-August show starring legends of rock KISS and Motley Crue is sure to bring fans from all over Northern California and beyond the San Francisco Bay Area. Rascal Flatts and also Linkin Park will be making stops at Shoreline Amphitheatre in September.
Less than 7,000 reserved seating tickets are available for each show at Shoreline, and dozens of them could sell over the internet in the matter of a few minutes. Folks that aren't able to get themselves a reserved seat still have an opportunity to purchase Shoreline concert tickets from TopNotchSeats.com, typically at a rate lower than that of an average ticket broker.
Front man Dave Matthews has openly proclaimed that the Shoreline Amphitheater is one of his favorite venues to play in the entire world, and he will be bringing his amazingly talented band to the stage underneath the white tent for a quaint Sunday evening show on September 9th. Those that are interested in securing tickets to the DMB should get themselves to TopNotchSeats.com sooner rather than later.
For more information about Shoreline concert tickets, visit http://www.topnotchseats.com.
About Top Notch Seats
Operating from the heart of Silicon Valley since 1993, Top Notch Seats is an online leader in secure ticket sales. TNS supplies audiences with quality seating and tickets to all major concerts, theatre and sports events in the Bay Area and around the nation.
Top Notch Seats specializes in providing Bay Area concert tickets with a wide variety of seating options, which enables customers to choose their favorite vantage point. TNS is a licensed Bay Area ticket broker engaged in the business of buying and selling first-rate tickets. They do not sell tickets at face value; ticket prices are often well above face value and reflect the cost of obtaining quality seating.