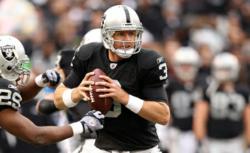 The O.co Coliseum is always at a fever pitch by kickoff time at a Raiders game, and to be inside this stadium when the game heats up in the final minutes is a very memorable experience
Campbell, CA (PRWEB) August 31, 2012
After a tumultuous year which included the passing of longtime owner Al Davis, the Oakland Raiders are eager to begin the next chapter of their long and storied history. Bay Area ticket broker Top Notch Seats is proud to announce to fans all over the San Francisco Bay Area, West Coast and beyond, that they are currently selling Oakland Raiders tickets to all upcoming games.
"The O.co Coliseum is always at a fever pitch by kickoff time at a Raiders game, and to be inside this stadium when the game heats up in the final minutes is a very memorable experience," said Paul Hillig of Top Notch Seats.
Oakland Raiders tickets are historically some of the most coveted tickets in the NFL, but Top Notch Seats has the resources to procure large sets of tickets throughout the stadium and at all different price levels.
Oakland Raiders tickets to the first Monday Night Football Game of the season against the San Diego Chargers are sure to sell out fast, and every Raider fan relishes an opportunity to cheer their silver and black men on in a rivalry game with major AFC West implications.
The Pittsburgh Steelers and wily veteran quarterback Ben Roethlisberger drop anchor in the Bay Area on Sunday, September 23rd, and all eyes will be on newly-acquired future Hall-of-Fame quarterback Peyton Manning when the Broncos make their annual visit to Oakland on the evening of December 6th. Tickets to Raider games such as these three are sure to be in very high demand, which means that visiting Top Notch Seats in the near future is a great idea.
Raider Nation branches out to some of the most remote locations on the planet, but there is a heavy concentration of proud and passionate Raider fans in the Bay Area and all of Northern California.
"Many of them are old enough to remember the glory days of the 1980s, and almost every one of them remembers the days when Jon Gruden had them on the cusp of a championship," said Hillig. "The fans are thirsty for another dynasty to bloom, and the collection of young talent that has been assembled in Oakland over the past few years has everyone thinking big things."
For more information about Oakland Raiders tickets, visit topnotchseats.com.
About Top Notch Seats
Operating from the heart of Silicon Valley since 1993, Top Notch Seats is an online leader in secure ticket sales. TNS supplies audiences with quality seating and tickets to all major concerts, theatre and sports events in the Bay Area and around the nation.
Top Notch Seats specializes in providing Bay Area concert tickets with a wide variety of seating options, which enables customers to choose their favorite vantage point. TNS is a licensed Bay Area ticket broker engaged in the business of buying and selling first-rate tickets. They do not sell tickets at face value; ticket prices are often well above face value and reflect the cost of obtaining quality seating.