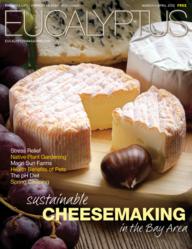 I hope this issue will give you a lot of ideas about how to be eco-friendly year round, not just on Earth Day
Los Gatos, CA (PRWEB) February 28, 2012
Eucalyptus magazine, the only lifestyle magazine that focuses exclusively on health, wellness and green living in the San Francisco Bay Area, has just released its March/April 2012 issue. Feature stories include pieces on wellness strategies to reduce stress, green gardening, and local artisan cheesemaking. The Grown Local department profiles a grass-fed-beef farmer and the Green Tips section gives suggestions on green spring cleaning. The new issue of Eucalyptus is now online at http://www.eucalyptusmagazine.com/MarchApril12 and available from over 350 Bay Area merchants.
One feature story on stress reduction offers 5 ways to slow the hectic pace of modern life. Yoga has been shown to reduce stress and increase feel-good brain chemicals, and the Bay Area has a wealth of yoga studios, with classes aimed at everyone from new moms and babies to advanced aerialists. Tai Chi, a "soft" martial art, uses graceful movement to stimulate the flow of the body's energy, known as "qi" in Chinese medicine. The article also recommends acupuncture, self-hypnosis, and guided imagery.
Another feature article on native gardening unearths the secret to a beautiful yard with less effort and expense: replacing water-sucking plants and lawns with native plants naturally suited to the Bay Area's mild climate. California is home to about 6,000 native plant species, making it a biodiversity hot spot. According to the article, planting a garden with naturally occurring native plants is not only easy, but is the best way to preserve California's biodiversity.
"Replacing our lawns and water-guzzling gardens with California native grasses and flowering plants makes long term sense both for our budgets and for the environment. I hope this issue will give you a lot of ideas about how to be eco-friendly year round, not just on Earth Day," said Michaela Marek, publisher and founder of Eucalyptus.
The new issue also profiles four farmers practicing sustainable cheesemaking in the Bay Area, detailing the special characteristics local geography and sustainable practices bestow on farm products. The article describes the sustainability efforts of Schoch Family Farmstead, Nicasio Valley Cheese Company, Redwood Hill Farm, and Harley Farms. Each farm uses its own sustainability practices like recycling everything from manure for compost and leftover whey for pig food, allowing the cheesemaking process to bear little weight on the land, and in turn, producing unique local flavors.
The Grown Local department explores the operation of Marin Sun Farms, a 382-acre grass-fed beef and chicken ranch in Marin Country, where the animals get to choose what they eat and "pasture finishing" is made possible due to the Bay Area's growing demand for meat from earth-friendly alternatives to traditional ranching.
As spring rolls around, the Green Tips section focuses on simple and affordable solutions for environmentally friendly cleaning. Green Tips for spring cleaning include what kind of dry cleaners to switch to, how to use lemons on stains and surfaces, nontoxic ways to unclog the drain, and possibilities for green tea beyond the cup. Green Tips also airs on two radio stations: MIX 106.5 and 94.5 KBAY.
In honor of March/April 2012 issue, Eucalyptus is offering a subscription sale: 50% off a one-year subscription. Subscribers can get 6 issues for only $12. Details about this special offer can be found at http://www.eucalyptusmagazine.com/subscribe.
For more information about the March/April 2012 issue of Eucalyptus, or for information about any of Eucalyptus magazine's products or services, call (408) 335-4778 or visit http://www.eucalyptusmagazine.com.
About Eucalyptus
Eucalyptus is the San Francisco Bay Area's resource for green and health-conscious lifestyles. Through the print publication, website and networking events, Eucalyptus shares knowledge and inspires readers to celebrate their health, support local businesses and surrounding communities, and protect the environment. The magazine is available at over 350 locations in the Bay Area and online at http://www.eucalyptusmagazine.com.
###