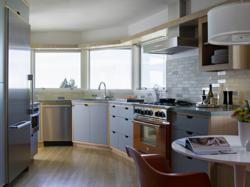 This project was a great collaboration with the clients and became a really successful design
San Francisco, CA (PRWEB) March 21, 2013
Hart Wright Architects, a San Francisco Architecture and design firm, recently completed a remodel for the home of a couple who appreciate Mid-Century Modern design and details. The project is a seamless blend of the Mid-Century Modern style of the 1950s and Hart Wright Architects' own fresh, unique and modern design style.
The original kitchen in this Mid-Century Modern home needed to be updated. Also the floor plan was not working- flow was broken up and there were too many rooms yet still not enough space. To reinvent the Mid Century Modern style, Hart Wright Architects re-used existing features and incorporated them into the design. They kept a cabinet but moved it over two feet to allow a second walkway into the kitchen keeping the separation between kitchen and dining room but increasing the flow and transparency between the two spaces. This second passage is painted bright yellow and casts a glow into the adjacent spaces.
Hart Wright Architects designed the cabinetry in the kitchen to have a finish combination of both wood and paint, thereby complimenting, but not copying the existing cabinetry. The wood frames are white oak, and the blue painted cabinet doors match the Heath Ceramic Tile used for the backsplash. The orange was inspired by the clients' own Eames chairs, and the stove, from Blue Star, could come in orange, too.
Existing redwood tiles with alternating grain created a checkerboard pattern. Hart Wright Architects re-used them to create a seamless transition of old house and new remodeled space. Light valences with linear LEDs, flow from room to room, a modern feature that adds light and thoughtful detail.
The dining room table is a custom built piece designed by Hart Wright Architects and is made of walnut boards and maple veneer "Europly" plywood legs. The balance of the two materials together represented a refined casualness, similar to the balance of the refined yet casual elegance of the space.
In terms of the design process, this project went very smoothly. There was a lot of collaboration with the owners and the contractor. An important strength of Hart Wright Architects is their belief in the idea that owner, architect, and contractor are all part of a team working together. Hart Wright Architects emphasizes being on budget and schedule while still pushing the ideas for great design.
About Hart Wright Architects
Hart Wright Architects is a green architecture, urban and landscape design firm based in San Francisco serving clients in Palto Alto, Atherton, Napa, Mill Valley and most of the Bay area. Through all phases of design and construction, HWA is committed to excellence in architectural design solutions, active problem solving, and the highest standards of client service. They recently became certified DBE for being a woman owned architecture business.
Principal Eliza Hart is a licensed architect in San Francisco. She received a Master of Architecture and an MA in Urban Planning at UCLA. Hart Wright Architects has extensive experience spanning the full range of services from schematic design to construction documents to construction administration Eliza founded Hart Wright Architects in 2006, a firm that emphasizes quality, environmental sustainability and a team approach to solving problems and getting the job done well.
This press release was prepared by Bobrow Consulting Group (http://www.bobrow.com) forHart Wright Architects. BCG works with building design professionals to build their business by optimizing their online strategy, teaching marketing for architecture firms as well as offering web design and SEO consulting services.