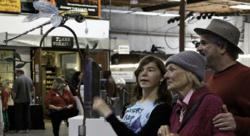 San Francisco, CA (PRWEB) September 07, 2011
The Crucible in Oakland is hosting its 12th annual Fall Open House this Saturday, September 10, 2011 from noon until 4 pm. This lively, not-to-be-missed event is free to the public and will feature live industrial arts demonstrations, molten metal pours, fire art performances, unique art sales, tuition discounts and refreshments. The Crucible is more than a Bay Area metal fabrication and art school; their private artist studios and equipment access makes them an important part of the Bay Area art community.
"My neighbor brought me to my first open house back in 2004. I remember being in awe of the number of art techniques and classes The Crucible has, watching the instructors do demonstrations and how family friendly The Crucible is. Also watching the fire performances was amazing," said Denise Taylor, Assistant Head of Jewelry Area and Instructor. "From there I started taking classes and volunteering. Now, seven years later, I'm still here helping run the jewelry department and teaching."
The Crucible's Fall Open House, which will be held at the Bay Area industrial art school's 56,000 square foot facility located at 1260 7th Street in West Oakland, offers both newcomers and veterans a great way to learn about The Crucible's new fall classes and workshops.
"I've been volunteering at The Crucible for about 6 months, and each time I go to one of their events I'm amazed at what I learn and get more and more jazzed about the place," exclaimed Janice Sykes, Crucible volunteer.
As furnaces roar and sparks fly, The Crucible will present live industrial art demonstrations, including amazing molten metal pours in the foundry, and fiery stage performances by their fire performance faculty and students. Guests can also enjoy a fantastic art show that showcases work from Crucible artists, some of which can be purchased.
"Every fall we like to show off what we do here with a spectacular art show," said Jennifer Harrity, Crucible spokesperson. "We will have pieces from Crucible staff, students, faculty and volunteers that showcase all of the fabulous industrial art classes we offer."
During the open house, guests are encouraged to vote for their top three favorite pieces of art. The artists who receive the most votes will receive free tuition for The Crucible class of their choice.
The Crucible will also offer "eye-popping" discounts on classes, tasty food and drink, and drawings for the chance to win free tuition for a Crucible class or a Yerba Buena Center for the Arts family pass.
And in addition to the drawing, participants can win prizes by joining The Crucible's "Resolve to Create!" campaign, where individuals of all ages make a creative resolution for 2011. The Crucible will capture each pledgling making their resolution and enter them into the art school's monthly "Resolve to Create!" drawing.
New students who sign up for a fall class during the event will receive 20% off class tuition. Members who sign up will receive 25% off class tuitions. The Crucible will offer memberships at the open house for 25% off.
The open house is not only popular with the community; the staff members truly enjoy putting on a good show. Kier Lugo, Senior Studio Manager, Head of Glass Blowing Area and Instructor said, "I love doing glass demos and interacting with people who are seeing glass blowing and all that we do here for the first time."
About The Crucible
The Crucible is an educational facility that offers Bay Area art classes in the fine and industrial arts to people at all skill levels and original Bay Area team building events. What started in 1999 in an empty 6,000 square-foot warehouse in Berkeley has now grown to a 56,000 square-foot building in the heart of West Oakland. They offer imaginative and constructive Bay Area kids activities.
The Crucible offers instruction in industrial and fine art for every level from beginning and intermediate to advanced levels in formats ranging from three-hour tasters to ten-week programs. Prices vary by course and duration. Class fees include tuition, studio fees, materials, tool access and safety training. There are no shopping lists for supplies or hidden costs.
# # #