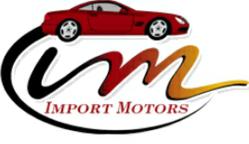 With the great support of the Bay Area community, we hope it there will be 45 more
Oakland, CA (Vocus/PRWEB) May 26, 2011
Import Motors, the East Bay's oldest independent Mercedes-Benz and BMW sales and service specialist, is celebrating its 45-year anniversary in Oakland and to celebrate is offering all first time customers 15% off all parts and labor. The family-owned repair shop credits their longevity to attentive customer care and having a vast stock of auto parts on hand.
"We have been here for 45 years and are encouraging new customers to help us celebrate," said Marc Mast of Import Motors. "With the great support of the Bay Area community, we hope it there will be 45 more."
Import Motors specializes in Mercedes-Benz, Audi and BMW repair in Alameda County. Their close association with A&F Imported Parts allows immediate access to a parts inventory which currently stands at over two million auto parts; a feat achieved by continuously expanding customer service and expert knowledge in German-style automobiles. All of their master mechanics are well-trained to provide service on European cars.
The story of Import Motors begins with Fritz Mast from Bern, Switzerland who was a trained Mercedes-Benz master mechanic and technician. He moved to the U.S. in 1959, when he was 26, and opened the doors to Import Motors in 1966 at the age of 33.
Import Motors occupied the original location on Randwick Avenue in Oakland for over 20 years, before moving to the current location at 4000 Telegraph Avenue in Oakland. The current location was a former Safeway grocery store, which was perfect for storing the huge inventory of auto parts they carry. Additionally, their current location is optimal for commuters, who oftentimes drop their cars off and hop on the BART at the nearby MacArthur Street Station.
Today, the Mast Family and the rest of the mechanics at Import Motors pride themselves in being a trusted name for BMW, Audi and Mercedes Benz auto repair in Alameda County. Their technical managers take excellent service seriously, including one-on-one sessions and replacing only parts that need to be replaced.
For more information about the 45th anniversary of Import Motors or any of their auto sales and services, call the shop at (510) 250-3535, visit them on the web at http://www.importmotorsofoakland-berkeley.com, or come to the shop located at 4000 Telegraph Avenue in Oakland.
About Import Motors
Import Motors is the East Bay's oldest independent provider of BMW and Mercedes-Benz repair in Alameda County, having served the San Francisco Bay Area for over 45 years. They specialize in Berkeley BMW repair, service and sales, in addition to Mercedes-Benz and Audi automobiles. Their inventory currently has more than 2 million auto parts in stock, including difficult-to-find European auto parts, making them one of the most reputable shops for Mercedes-Benz, BMW and Audi repair in Alameda County.
###