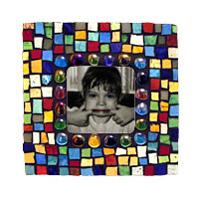 All families go through life's ups and downs, and stress can take its toll on relationships—so sometimes families need to take a timeout from day-to-day life and just enjoy being together
Alameda, CA (Vocus/PRWEB) June 11, 2011
The real estate bust and high unemployment in the Bay Area have a lot of families on edge. Fortunately, Sharon Frederickson, owner of the Alameda pottery painting studio The Magic Paintbrush, knows the therapeutic and transformational powers of art. Both children and adults benefit from the way art presents a creative, stress-reducing bonding experience.
Psychological professionals have known the value of art therapy for many years, and Frederickson sees the cognitive benefits art can bestow every day when families come in and paint pottery in her shop.
"Pottery painting can relieve stress in kids and adults because it helps clear your mind. You can just relax and focus on the piece you're creating, and all your other troubles and worries fall away," says Frederickson.
Art therapy is often used to help people express themselves without having to put their feelings into words. It can help lower levels of stress and depression associated with life's challenges like family and relationship issues, trauma, grief, cognitive problems and physical disabilities. It is effective for everyone from young children to the elderly. The American Art Therapy Association has concluded that art can help people suffering from post-traumatic stress disorder.
"All families go through life's ups and downs, and stress can take its toll on relationships—so sometimes families need to take a timeout from day-to-day life and just enjoy being together," said Fredrickson. "The Magic Paintbrush was created to be a welcoming environment where families can bond through creative expression."
Frederickson says she has seen kids (and grownups) go from sullen to lit-up while they paint pottery. Young children sometimes have trouble expressing themselves verbally, so they benefit immensely from letting their feelings out through pottery painting.
"It's a way of picturing your feelings using simple art materials, which can be much easier for kids than talking—and much more fun," she pointed out.
Families are encouraged to discover how creating art together can bring parents and kids closer. In addition to pottery painting, the Magic Paintbrush offers creative expression through mosaics and glass fusion in the Bay Area.
For more information about the therapeutic value of pottery painting or any of The Magic Paintbrush's products or services, call them at (510) 250-3662 or visit them on the web at http://www.themagicpaintbrushceramics.com.
About The Magic Paintbrush
The Magic Paintbrush is a Bay Area pottery painting, glass fusion and mosaic studios. Their pottery bisques include a variety of dishes, mugs and bowls, Disney characters, banks, jewelry boxes and figurines. Fused glass patterns can be flattened or fused into plates, bowls, and vases in their kiln. Mosaics can be made by gluing glass pieces, tiles, gems and other materials into plaques, frames, clocks, mirrors and trivets. The Magic Paintbrush hosts Bay Area birthday parties and bridal showers, and has ongoing classes, including glass fusion jewelry making and weeklong summer camp.
The Magic Paintbrush serves the San Francisco Bay Area, including the communities of Alameda, Albany, Berkeley, Emeryville, Montclair, Oakland, Piedmont, San Leandro and San Lorenzo.
###