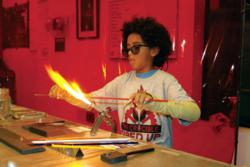 Everything is so computerized now; we've forgotten what it feels like to make things with our hands.
Oakland, CA (Vocus/PRWEB) June 21, 2011
The Crucible's Bay Area summer camps are creative, hands-on, artistic adventures for kids to explore. An alternative to the computer and television for kids during the summer, classes include blacksmithing, three different types of welding, radical robots, sand casting, jewelry, ceramics and—the newest addition—glass blowing.
"Our summer youth camps create an environment where people become one again with the parts of society we aren't used to anymore," said Ismael Plasencia, Youth and Community Program Assistant Manager. "Everything is so computerized now; we've forgotten what it feels like to make things with our hands.
"We end up using all of these different things in daily life, and we never stop to ask how they are made. After a week in one of our summer camps, students walk away not only with an understanding of how things are made, but also with the self-confidence of knowing that they can make things themselves."
Choice of half- or full-day summer camp sessions for age groups 8 to 11 and 12 to 17 are available the weeks of June 27 to July 1, July 18 to 22, July 25 to 29 and August 1 to 5. Courses are held at The Crucible's 56,000-square-foot studio space located at 1260 7th Street in West Oakland.
The Crucible's Bay Area summer camp sessions offer youth numerous benefits. They bring young artists into the community of artists at The Crucible, introduce them to like-minded peers, allow them to explore their own creativity and forge new friendships, and empower them to use their minds and hands in concert to make industrial art from scratch.
A low student-to-teacher ratio ensures quality hours of instructional time. At the end of each week, kids showcase their new creations in a gallery walk, which parents are invited to attend. Students leave feeling stronger and more self-confident.
The Crucible launched its Fired Up Youth Program back in 2005 with 24 students in 5 separate classes held druing a single week. This year the program expects to host over 900 children in 101 classes spanning over four weeks.
"The growth of these programs has been a true testament to the dedication and hard work of all of the staff and faculty who feel passionately about teaching industrial arts. Students are guided through a creative process, whether blacksmithing, welding, foundry or glass work that then feeds the creative whole. The momentum of this excitement builds from year to year and is contagious," said Carla Hall, Youth Program Director. "To see the buzz of students during a camp week and the level of inspiration they have on each other's experience is amazing."
"A young girl started the first day of glass flameworking summer camp with her head down, shaggy hair completely obscuring her face, shoulders slumped forward. Students in our class work independently, and her hands proved skillful as she learned the craft with quiet focus and concentration," shared Tara Murray, Crucible glass flameworking instructor.
"She gained confidence in her own abilities, and this in turn gave her self-confidence within the group; by the end of the week, she was sitting up, engaged, curious eyes wide open, her hair tied back in a red bandanna. Her last journal page was filled with drawings of herself at the torch, wearing her bandanna, saying, 'Goodbye fire.' I'm pretty sure she meant the torch, because I saw some fire in her that I think she'll be keeping."
For more information about The Crucible's East Bay summer camps or any of their other offerings, call them at (510) 444-0919 or visit them on the web at http://www.thecrucible.org.
About The Crucible
The Crucible is a San Francisco Bay Area industrial arts educational facility that specializes in instruction in the fine and industrial arts to people at all skill levels. What started on January 15th 1999 in a 6,000 square-foot warehouse in Berkeley has now grown to a 56,000 square foot building in the heart of West Oakland.
The Crucible offers instruction in industrial and fine art for every level from beginning and intermediate to advanced levels in formats ranging from three-hour tasters to ten week programs. Prices vary by course and duration. Class fees include tuition, studio fees, materials, tool access and safety training. There are no shopping lists for supplies or hidden costs.
###