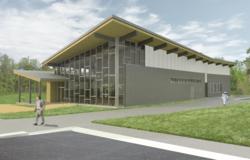 Because we are aware of the challenge to continue feeding a growing world population, our Bee Care Center will be a vital resource in our ongoing commitment to maintaining sustainable agriculture
Research Triangle Park, NC (PRWEB) December 04, 2012
Bayer CropScience today announced plans to break ground in February on its North American Bee Care Center, which will serve as a gathering place for researchers, bee experts, students and other visitors to meet regularly with leading Bayer scientists. The Bayer Bee Care Center is dedicated to promoting and protecting bee health so that these hard-working, beneficial insects can continue to provide hive products as well as pollination services for foods we enjoy each day.
The North American Bayer Bee Care Center, to be located at the Bayer CropScience North America headquarters in Research Triangle Park, N.C., is scheduled for completion in July 2013. The Bee Care Center is part of Bayer's Global Bee Care Program, which provides a more focused and centralized resource for Bayer scientists and external stakeholders. The Center will bring together significant technological, scientific and academic resources, with the ultimate goal of supporting product stewardship and sustainable agriculture.
"We understand the necessity for healthy bees as pollinators and their critical role to agriculture, and by working with scientists, growers, beekeepers and customers, we strive to create new approaches and solutions to benefit bee health and the global food supply," said Jim Blome, president and CEO of Bayer CropScience North America. "Because we are aware of the challenge to continue feeding a growing world population, our Bee Care Center will be a vital resource in our ongoing commitment to maintaining sustainable agriculture."
The North American Bee Care Center will include:

Full laboratory and research apiary, as well as honey extraction and workshop space needed to conduct bee health research and to support a practical apiculture. The research will focus on Integrated Pest Management for the multiple causes affecting bee health, such as parasites, like the Varroa mite, predators, diseases, seasonal management, and environmental stressors
The active promotion of bee-responsible use of Bayer products along with communication activities worldwide
State-of-the art meeting, training and presentation facilities for beekeepers, farmers and educators to provide resources and an interactive learning center
Bayer's new North American Bee Care Center is the second established by the company to promote bee health. In 2012, its global Bayer Bee Care Center was established at the joint headquarters campus of Bayer CropScience and Bayer Animal Health in Monheim, Germany.
The Bayer Bee Care Center, a more than 6,600 square feet building in Research Triangle Park, will be fully staffed, including an office space for graduate students. Not only will the Center be LEED (Leadership in Energy and Environmental Design) Gold certified, providing pollinator-friendly gardens, but it will also produce a surplus of energy. As a LEED-certified building, the Center will continue Bayer's efforts to reduce its carbon footprint to help improve agricultural management and foster environmental stewardship. The net zero building will generate more energy each year than consumed through its geothermal heating and cooling, LED lighting and solar water heating.
For more than 25 years, Bayer has been actively involved in finding solutions to improve honey bee health, and the two new Centers confirm how its commitment furthers collaboration and understanding of the health of bees.
Bayer is dedicated to crop protection and is committed to environmental stewardship and sustainable agricultural practices, including the protection of beneficial insects such as honey bees.
For additional information and background on other sustainability initiatives please visit http://www.bayercropscience.us/our-commitment/bayer-initiatives.
###
About Bayer CropScience
Bayer is a global enterprise with core competencies in the fields of health care, agriculture and high-tech materials. Bayer CropScience, the subgroup of Bayer AG responsible for the agricultural business, has annual sales of EUR 7.255 billion (2011) and is one of the world's leading innovative crop science companies in the areas of seeds, crop protection and non-agricultural pest control. The company offers an outstanding range of products including high value seeds, innovative crop protection solutions based on chemical and biological modes of action as well as an extensive service backup for modern, sustainable agriculture. In the area of non-agricultural applications, Bayer CropScience has a broad portfolio of products and services to control pests from home and garden to forestry applications. The company has a global workforce of 21,000 and is represented in more than 120 countries. This and further news is available at: http://www.press.bayercropscience.com.
Contact:
Bayer CropScience Media Hotline, 1-877-879-6162, or
Beth Roden
Director of Communications & Bayer CropScience NA Coordinator
Bayer CropScience
Tel: (919) 549-2030
Email: beth(dot)roden(at)bayer(dot)com
Ryan McCormick
Porter Novelli
Tel: (312) 552-6316
Email: ryan(dot)mccormick(at)porternovelli(dot)com
USA-BCS-2012-0480
Find more information at http://www.bayercropscience.us.
Forward-Looking Statements
This release may contain forward-looking statements based on current assumptions and forecasts made by Bayer Group or subgroup management. Various known and unknown risks, uncertainties and other factors could lead to material differences between the actual future results, financial situation, development or performance of the company and the estimates given here. These factors include those discussed in Bayer's public reports which are available on the Bayer website at http://www.bayer.com. The company assumes no liability whatsoever to update these forward-looking statements or to conform them to future events or developments.