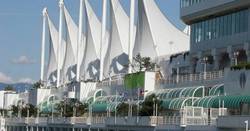 Sheffield, MA (Vocus) February 3, 2010
Canada's winter will have little effect on Olympic Games visitors to Vancouver's many attractions, thanks to the city's planners and architects. Historically they have kept the elements at bay in their approach to infrastructure design for popular pedestrian areas, and their preparations for the Winter Games are no exception.
A notable example is Vancouver BC's Canada Place, a landmark cultural and entertainment complex. Its design includes extensive use of transparent green polycarbonate sheet for entry area skylights, windows and covered walkways that provide natural light, unobstructed views and protection from severe weather.
Criteria for the material included long term UV and weather resistance, durability, and freedom to design skylights and windows compatible with the architectural features of Canada Place. After extensive testing, the facility's designers opted for a highly UV resistant Makrolon® polycarbonate sheet from Bayer MaterialScience LLC's Sheffield Plastics business, based in Massachusetts.
Sheffield developed the UV resistant grade specifically to maintain clarity after long term outdoor exposure. Its inherent toughness far exceeds that of acrylic and glass and its physical strength withstands high wind loads often experienced at Canada Place.
Makrolon polycarbonate sheet also met the project's design freedom requirements, a priority for Canada Place given its dramatic architecture. Polycarbonate's toughness allowed the transparent green sheet to be formed easily into the required curved skylight shapes on site, and without the costly pre-heating required with glass and acrylic.
In addition to its other benefits, Makrolon polycarbonate sheet also satisfies all safety and flammability requirements of the Canadian and Vancouver building codes.
Bayer MaterialScience LLC is one of the leading producers of polymers and high-performance plastics in North America and is part of the global Bayer MaterialScience business with nearly 15,100 employees at 30 sites around the world and 2008 sales of 9.7 billion euros. Business activities are focused on the manufacture of high-tech polymer materials and the development of innovative solutions for products used in many areas of daily life. The main segments served are the automotive, electrical and electronics, construction, medical, and sports and leisure industries.
Contact:
Cindy Kahlstrom, Phone: 413-528-7812
E-mail: cindy(dot)kahlstrom(at)bayerbms(dot)com
For more information about Bayer MaterialScience, call 1-800-628-5084, info(at)sheffieldplastics(dot)com or visit http://www.sheffieldplastics.com
This news release contains forward-looking statements based on current assumptions and forecasts made by Bayer Group management. Various known and unknown risks, uncertainties and other factors could lead to material differences between the actual future results, financial situation, development or performance of the company and the estimates given here. These factors include those discussed in our annual and interim reports filed with the Frankfurt Stock Exchange. The company assumes no liability whatsoever to update these forward-looking statements or to conform them to future events or developments
# # #