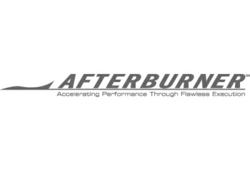 Atlanta, GA (PRWEB) December 03, 2012
Jim Murphy, founder of the global management training firm, Afterburner, was featured as the guest speaker at Bayer Healthcare's annual leadership meeting in Portugal this month. The concept behind Flawless Execution® combines combat-derived strategy and a holistic, communication-based business model to align daily objectives with an organization's overall vision. With an incomparable approach that acknowledges the sensitive and evolving nature of the healthcare industry, Afterburner's model can help today's leading healthcare providers develop strategies that facilitate increased communication and efficiency.
Bayer Healthcare Pharmaceuticals is a subsidiary of Bayer Healthcare and parent company Bayer AG, based in Berlin, Germany. Its products are marketed in more than 100 countries and it currently employs over 37,000 staff members. Bayer Healthcare's pharmaceutical operations began more than 100 years ago, and it has employed numerous award-winning researchers, like Nobel Prize winner Gerhard Domagk who discovered the antibacterial qualities of sulfonamides in 1939. Bayer Healthcare Pharmaceuticals has continued to lead the industry in innovative research into essential medications for a wide range of ailments from menopause to severe and life-threatening diseases.
"Murph" created the Flawless Execution® model over 15 years ago, and its application to organizational alignment has never been more appropriate. A stagnant economic recovery has forced companies to reconsider their current business models as the call for perfection continues to grow. The Flawless Execution® model helps businesses meet these expectations by equipping them with the strategy necessary to perform flawlessly. By implementing the firm's continuous improvement process of Plan. Brief. Execute. Debrief.,sm the unprecedented approach guarantees tactical and strategic alignment throughout all levels of an organization.
To learn more about Afterburner's innovative approach to professional development and strategy, visit http://www.afterburnerseminars.com or call (404)-835-3500.
About Afterburner
Afterburner, Inc., founded in 1996 by U.S. Air Force fighter pilot Jim "Murph" Murphy, trains organizations around the world in the simple, scalable improvement processes of Flawless Execution, which encompasses the Three E's-Empower, Equip, and EmbedSM. With a client list that includes over 30% of the U.S. Fortune 500, Afterburner is among Inc. Magazine's "Inc. 500 List of America's Fastest Growing Companies" and has been featured in the Wall Street Journal, Business Week, Financial Times, Newsweek, and Meetings and Conventions Magazine. Afterburner has also appeared on CNN, CNBC, Fox News, and Bloomberg News. For information on Afterburner's Flawless Execution model, please visit http://www.AfterburnerConsulting.com.
About Bayerhealthcare
Bayer Inc. (Bayer) is a Canadian subsidiary of Bayer AG, an international research-based group with core businesses in health care, crop science and innovative materials. Headquartered in Toronto, Ontario, Bayer Inc. operates the Bayer Group's HealthCare and MaterialScience businesses in Canada. Bayer Crop Science Inc., headquartered in Calgary, Alberta operates as a separate legal entity in Canada. Together, the companies play a vital role in improving the quality of life for Canadians – producing products that fight diseases, protecting crops and animals, and developing high-performance materials for applications in numerous areas of daily life. Canadian Bayer facilities include the Toronto headquarters and offices in Montréal and Calgary.
Bayer Inc. has approximately 800 employees across Canada and had sales of $853 million CDN in 2009. Globally, the Bayer Group had sales of over 31 billion Euro in 2009. Bayer Inc. invested approximately $50 million CDN in research and development in 2009. Worldwide, the Bayer Group spent the equivalent of over 2.7 billion Euro in 2009 in R&D. For more information, go to http://www.bayer.ca.