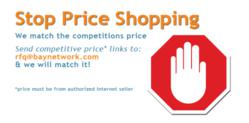 we know what IT teams are looking for
Menlo Park, CA (PRWEB) August 23, 2012
The need to spend top dollar on IT equipment is yesterday's news and Baynetwork, Inc. has built a pricing strategy around helping IT teams throughout the world save money on the purchasing and procurement of used Cisco Routers, refurbished Juniper Switches, fully warrantied Ixia Test Equipment and guaranteed ShoreTel VoIP hardware. As small, medium and enterprise businesses attempt to refine IT spending and prepare their IT infrastructure for cloud services and co-location, Baynetwork, Inc.'s price matching strategy will help CIO's and business owners reduce costs of IT hardware and network equipment.
The buying cycle for network equipment is changing as companies and datacenters attempt extend the life of their typically expensive IT equipment. There a lot of hardware replacement service license agreements that are no longer justifiable to an IT budget, but keeping the equipment running and affordably replaceable does matter. "Baynetwork, Inc. has been in the IT hardware space for 15 years and we know what IT teams are looking for, fast turnaround of IT equipment that is tested, guaranteed, warrantied and of course affordable. " - Yuriy Petushkov, CEO
The price matching process is simple for anyone looking to purchase used or refurbished IT equipment that is backed-up with a limited lifetime warranty. Simply send an email to rfq-at-baynetwork.com with a link to the piece of equipment you are looking to price match and the Baynetwork, Inc. sales team will respond accordingly. The link source and competitive pricing must of course be from a verified and licensed seller that can be verified. The price matching is good for anything we inventory or offer and all items sold by Baynetwork, Inc. are fully tested and guaranteed.
Final note: Baynetwork's sponsorship of Bare Metal Savvy Meetup is official and the inaugural Meetup, BBQ & Open house is scheduled for Friday 8.24.12 (RSVP at http://www.meetup.com/Baynetwork-Bare-Metal-Savvy/ )
Since 1997, Baynetwork, Inc. a premier re-seller of new, pre-owned, refurbished and used network hardware equipment, used Cisco Routers, Juniper Switches, Dell Servers, Barracuda Firewalls, Ixia Testing Equipment, ShoreTel VoIP and many other premier IT hardware brands, has helped define and shape the secondary markets in the IT network equipment industry. From complete network design and configuration to security analysis and private cloud deployment, Baynetwork's array of managed IT services and rapid product procurement help thousands of companies deliver digital media and content across the globe with reduced costs and shortened lead-times. Baynetwork services also include IT network asset recovery, enterprise network security , data center IT hardware replacement and managed IT services.
#########
The names of actual companies and products mentioned herein may be the trademarks of their respective owners.
For more information, press only:
Jason E. Sutherland, Marketing Director, (650) 561-8145, jason.sutherland (at) baynetwork (dot) com
For more information on Baynetwork, Inc.:
http://www.baynetwork.com