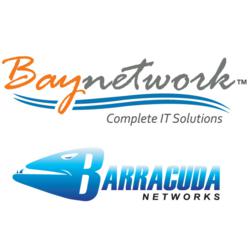 Network security matters for all our clients and Barracuda's product array help make it easy
Menlo Park, CA (PRWEB) January 15, 2013
Selling premier network equipment is Baynetwork's primary source of revenue and adding the entire family of Barracuda Network Security Equipment, Firewalls and Spam Filters will enhance Baynetwork's total offerings. While Baynetwork has mainly focused on new, used and refurbished Cisco equipment and routers Baynetwork's 2013 growth plan includes better partnerships with leading players in the network hardware space.
Baynetwork and Barracuda Network's relationship in not new by any means, but Baynetwork's embrace and confidence in being able to sell Barracuda products to enterprise and small business is very important. "Network security audits are becoming a major request within for our IT managed services team and the Barracuda family of network appliances helps our team easily integrate better security measures for our clients." G. Petushkov - Managing Director
About Barracuda Networks Inc.
Barracuda Networks has developed a worldwide brand and reputation as the go-to leader for powerful yet easy-to-use IT solutions. With more than 150,000 customers worldwide, Barracuda is disrupting the IT infrastructure landscape by simplifying many of the most complex IT challenges. The company's proven customer-centric business model focuses on delivering high-value, subscription-based IT solutions across security, networking and application delivery, and storage and data protection. For additional information, please visit http://www.barracuda.com.
About Baynetwork, Inc.
Since 1997, Baynetwork, Inc. a premier re-seller of new, pre-owned, refurbished and used network hardware equipment, used Cisco Routers, Juniper Switches, Dell Blade Servers, Barracuda Firewalls, Ixia Testing Equipment, ShoreTel VoIP and many other premier IT hardware brands, has helped define and shape the secondary IT network equipment market industry. From complete network design and configuration to security analysis and private cloud deployment, Baynetwork's array of managed IT services and rapid product procurement help thousands of companies deliver digital media and content across the globe with reduced costs and shortened lead-times. Baynetwork services also include major network appliance repair, IT network asset recovery, enterprise network security, data center IT hardware replacement and managed IT services.
#########
The names of actual companies and products mentioned herein may be the trademarks of their respective owners.
For more information, press only:
Jason E. Sutherland, Marketing Director, (650) 561-8145, jason(dot)sutherland(at)baynetwork(dot)com
For more information on Baynetwork, Inc.:
http://www.baynetwork.com