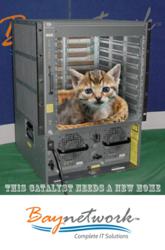 We are one of the most profitable Cisco orphanages in the world
Menlo Park, CA (PRWEB) October 02, 2012
Making valuable use of used Cisco routers, switches & IT network equipment is what Baynetwork, Inc. does best, but recently a viral blog post by the Baynetwork Marketing Department depicted an odd use for a Cisco Catalyst 6500 Chassis. The odd depiction was a of cat housing itself in the actual Cisco chassis. How cute!
While Baynetwork fully admits that the image used in the blog post is a Photoshopped composite of a cat inside a Cisco Catalyst 6500, the true intention was to show that Baynetwork knows how to care for and find "homes" for such world recognized IT hardware. The market is changing and Cisco end-of-life announcements are causing a stir for IT managers and CIO's across the globe and we wanted to add some comfort to the whole process of buying or decommissioning used cisco equipment while having some fun at the same time."
Most recently, during the month of September, Baynetwork, Inc. has seen a large increase of searches and inquiries for buying and selling used Cisco equipment that are directly related to ws-c2960g-24tc-l. The Cisco ws-c2960g-24tc-l reached its end-of-sale announcement on of July 31st 2012.
Since 1997, Baynetwork, Inc. a premier re-seller of new, pre-owned, refurbished and used network hardware equipment, used Cisco Routers, Juniper Switches, Dell Servers, Barracuda Firewalls, Ixia Testing Equipment, ShoreTel VoIP and many other premier IT hardware brands, has helped define and shape the secondary market of the IT network equipment industry. From complete network design and configuration to security analysis and private cloud deployment, Baynetwork's array of managed IT services and rapid product procurement help thousands of companies deliver digital media and content across the globe with reduced costs and shortened lead-times. Baynetwork services also include IT network asset recovery, enterprise network security, data center IT hardware replacement and managed IT services.
#########
The names of actual companies and products mentioned herein may be the trademarks of their respective owners.
For more information, press only:
Jason E. Sutherland, Marketing Director, (650) 561-8145, jason.sutherland(at)baynetwork(dot)com
For more information on Baynetwork, Inc.:
http://www.baynetwork.com