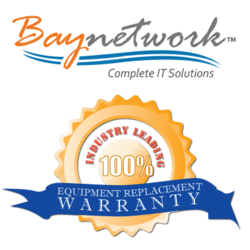 Menlo Park, CA (PRWEB) October 25, 2012
Cisco Nexus Equipment is the replacement of Cisco Catalyst equipment and while most network savvy professionals know that Cisco Catalyst products are remarkably affordable through the secondary markets, Baynetwork, Inc.'s introduction of Cisco Nexus Equipment into their line of available products further vilifies Baynetwork's intentions of keeping network equipment affordable.
In 2012 during the month of August Cisco End-of-sale and End-of-life Announcements for the Cisco Catalyst 6500 Series Supervisor Engine 720-3B/3BXL hit their term dates and this equipment can no longer be bought from Cisco. This huge announcement marks the end of a successful legacy by Cisco and their stronghold on the IT network equipment markets. Because of the popularity in the Catalyst 6500 equipment, the End-of-Sale announcement from Cisco has led to an increased demand for Catalyst equipment by Baynetwork customers and further incentivized opportunities for sales of Cisco Nexus equipment within the Baynetwork, Inc. product offerings.
Because Baynetwork, Inc. specializes in the buying and selling of genuine Cisco network equipment, business routers and VOIP, introducing the Cisco Nexus family into the company's product offering is a natural progression. Cisco End-of-Life announcements directly correlate to Baynetwork's sales cycle and businesses of all sizes have learned to capitalize in Baynetwork, Inc.'s heavily discounted offerings in business network equipment of all sizes.
Since 1997, Baynetwork, Inc. a premier re-seller of new, pre-owned, refurbished and used network hardware equipment, used Cisco Routers, Juniper Switches, Dell Servers, Barracuda Firewalls, Ixia Testing Equipment, ShoreTel VoIP and many other premier IT hardware brands, has helped define and shape the secondary market of the IT network equipment industry. From complete network design and configuration to security analysis and private cloud deployment, Baynetwork's array of managed IT services and rapid product procurement help thousands of companies deliver digital media and content across the globe with reduced costs and shortened lead-times. Baynetwork services also include IT network asset recovery, enterprise network security, data center IT hardware replacement and managed IT services.
#########
The names of actual companies and products mentioned herein may be the trademarks of their respective owners.
For more information, press only:
Jason E. Sutherland, Marketing Director, (650) 561-8145, jason.sutherland(at)baynetwork(dot)com
For more information on Baynetwork, Inc.:
http://www.baynetwork.com