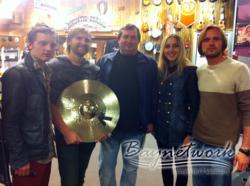 We are all excited about this opportunity – and can't wait to see how both our customers and KiWi Time fans respond to really fun and unique engagement opportunities.
Menlo Park, CA (PRWEB) April 21, 2013
The word is out, KiWi Time Band of San Francisco, an independent rock band, and Baynetwork, Inc. of Menlo Park, a network equipment re-seller and Silicon Valley based Managed IT Service team, are joining forces through an official sponsorship. In a continued effort to expand Baynetwork, Inc.'s marketing initiatives related to promoting a balanced Silicon Valley lifestyle, KiWi Time and Baynetwork have reached an official sponsorship agreement that is designed to enhance one another brands messaging and social efforts.
Yuriy Petushkov CEO – Baynetwork, Inc. discovered the band when recently invited to a local event that KiWi Time performed at in San Francisco. That's when the light bulb went on. After some preliminary research and two weeks of negotiation, Anna, Vlad, Yoga and Mikalai of KiWi Time agreed on an official Baynetwork, Inc. sponsorship. Baynetwork's decision to sponsor The KiWi Time band's following is directly related to their fan base and followers who are made up of geeks, nerds and other fellow IT professionals. The sponsorship will help the band with equipment, demo recording and other music related matters all while strategically promoting the Baynetwork, Inc. brand. "We are all excited about this opportunity – and can't wait to see how both our customers and KiWi Time fans respond to really fun and unique engagement opportunities." – Jason E. Sutherland Web & Marketing Director – Baynetwork, Inc.
About Kiwi Time
Kiwi Time is a band of 4 childhood friends who grew up in the small town in Belarus and moved to San Francisco chasing their dream to be a band #1 on the planet! Their energy blows away everything on its way delivering the truly happiness and joy to the hearts of their listeners.
Winners of the ArtRockX band competition and finalists of Hard Rock Rising SF have wasted no time getting acquainted with their surroundings. For 2 years they played more than 50 shows and festivals all over the Bay Area, Los Angeles and New York City. So far under their belt legendary Regency Center, Palace of Fine Arts, DNA Lounge, Brick and Mortar Music Hall, Minna Gallery, Supper Club, Elbo Room, Café Cocomo. As a result the band was featured on Live 105′s Top Ten Local Bands in San Francisco.
About Baynetwork, Inc.
Since 1997, Baynetwork, Inc. a premier re-seller of new, pre-owned, refurbished and used network hardware equipment, used Cisco Routers, Juniper Switches, Dell Blade Servers, Barracuda Firewalls, Ixia Testing Equipment, ShoreTel VoIP and many other premier IT hardware brands, has helped define and shape the secondary IT network equipment market industry. From complete network design and configuration to security analysis and private cloud deployment, Baynetwork's array of managed IT services and rapid product procurement help thousands of companies deliver digital media and content across the globe with reduced costs and shortened lead-times. Baynetwork services also include Cisco router repair, IT network asset recovery, enterprise network security, data center IT hardware replacement and managed IT services.
#########
The names of actual companies and products mentioned herein may be the trademarks of their respective owners.
For more information, press only:
Jason E. Sutherland, Marketing Director, (650) 561-8145, jason.sutherland(at)baynetwork(dot)com
For more information on Baynetwork, Inc.:
http://www.baynetwork.com