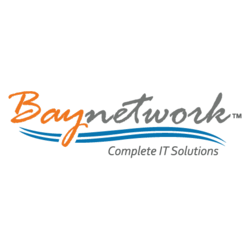 Helping our customers feel confident about every service or piece of equipment we offer is of major importance to our ongoing relationships and growth.
Menlo Park, CA (PRWEB) November 06, 2012
Baynetwork, Inc. further defines Managed IT Services opportunities for San Francisco Bay Area / Silicon Valley businesses through C-7 low voltage systems license. Tao Le, On-site Installment Manager, extends an active license through the Contractors State License Board through October 2014 which helps bring greater assurance to Baynetwork Managed IT Services customers throughout California.
Since Baynetwork's headquarters moved to Menlo Park California in the heart of the Silicon Valley three years ago, the company has seen rapid growth in requests for computer room and campus network installations throughout Northern California. Tao Le's obtaining a C-7 License as a Manager of On-site Installations extends the mission of Baynetwork's promise in providing affordable IT solutions to businesses of all sizes.
Baynetwork, Inc.'s has a worldwide client base of businesses that buy business routers, but most recently the move to Menlo Park, CA has created new opportunity for more than equipment sales and helped to expand the Managed IT Services Operations arm of the company. Baynetwork staff always keep up-to-date with certification, licenses and education. "Companies from around the world purchase equipment from us, but as our team of certified and licensed professionals continues to grow we are able to provide solid IT services on a contractual basis to businesses throughout the Silicon Valley and San Francisco Bay Area." – Larry Lessler, CFO.
Since 1997, Baynetwork, Inc. a premier re-seller of new, pre-owned, refurbished and used network hardware equipment, used Cisco Routers, Juniper Switches, Dell Servers, Barracuda Firewalls, Ixia Testing Equipment, ShoreTel VoIP and many other premier IT hardware brands, has helped define and shape the secondary market of the IT network equipment industry. From complete network design and configuration to security analysis and private cloud deployment, Baynetwork's array of managed IT services and rapid product procurement help thousands of companies deliver digital media and content across the globe with reduced costs and shortened lead-times. Baynetwork services also include IT network asset recovery, enterprise network security, data center IT hardware replacement and managed IT services.
# # #
The names of actual companies and products mentioned herein may be the trademarks of their respective owners.
For more information, press only:
Jason E. Sutherland, Marketing Director, (650) 561-8145, jason(dot)sutherland(at)baynetwork(dot)com
For more information on Baynetwork, Inc.:
http://www.baynetwork.com