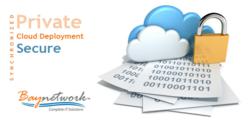 Menlo Park, CA (PRWEB) December 06, 2012
Baynetwork, Inc., a premier IT re-seller and competitive Silicon Valley IT consulting agency, has confirmed their sponsorship to Technology Convergence Conference 2013. Baynetwork, Inc. works closely with thousands of IT professionals around the world, and the 2013 TCC lunch sponsorship opportunity offers an affordable way to easily connect and align the company with thousands of top Silicon Valley top IT professionals.
"Baynetwork, Inc. has participated in Interop Las Vegas and other industry leading conferences over the years. Being a lunch sponsor for TCC 2013 offers an opportunity exposure of our service and discounted equipment offerings and a greater recognition of our brand to our demographic audience."
Since 2007 the Technology Convergence Conference has grown to become a one-day destination conference for IT professionals of all levels. TCC is designed for IT pros and executive to come together to learn more about and discuss successes, missteps, strategies, bestr practices and the future of IT in a unique and collaborative setting. The TCC approach to communicating and offering presentations by end-users for end-users is exactly where Baynetwork, Inc. wants and needs to be.
"Recently we sponsored and organized an ongoing IT pros Bare-Metal Meetup and TCC is basically our Bare-Metal Meetup on a grand scale."
Since 1997, Baynetwork, Inc. a premier re-seller of new, pre-owned, refurbished and used network hardware equipment, used Cisco Routers, Juniper Switches, Dell Servers, Barracuda Firewalls, Ixia Testing Equipment, ShoreTel VoIP and many other premier IT hardware brands, has helped define and shape the secondary market of the IT network equipment industry. From complete network design and configuration to security analysis and private cloud deployment, Baynetwork's array of managed IT services and rapid product procurement help thousands of companies deliver digital media and content across the globe with reduced costs and shortened lead-times. Baynetwork services also include IT network asset recovery, enterprise network security, data center IT hardware replacement and managed IT services.
#########
The names of actual companies and products mentioned herein may be the trademarks of their respective owners.
For more information, press only:
Jason E. Sutherland, Marketing Director, (650) 561-8145, jason(dot)sutherland(at)baynetwork(dot)com
For more information on Baynetwork, Inc.:
http://www.baynetwork.com