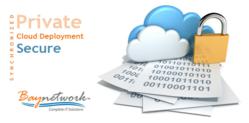 Affordability in premier brand IT network equipment is what we do best and we enjoy being recognized for it!
Menlo Park, CA (PRWEB) September 14, 2012
Economic strength in the high-tech industry has helped Baynetwork, Inc. of Menlo Park take a premier position as one of Silicon Valley's premier IT network equipment re-sellers. As software companies learn to leverage the power of hardware, reducing hardware costs are essential to the success of any start-up.
The explosive growth of Cloud and SAAS has not only occurred because of virtualization, but because IT equipment can now be bought and maintained for a fraction of what it cost as little as 3 years ago. As Cisco routers and switches come to their end-of-life and Dell Blade Servers and Force 10 equipment saturate the IT hardware landscape, SysAdmins and Network Engineers know that stable hardware and infrastructure doesn't only relate to tried and truly tested IT equipment, but the cost of replacing said IT equipment needs to be reflective of its interoperability. The more readily available low priced network equipment is made the faster a network's vision can be deployed and development can quickly occur.
Start-ups, data centers and enterprises across the globe are saving millions of dollars by utilizing Baynetwork's secondary market expertise and industry leading guarantees on new, refurbished IT n etwork hardware. It is the IT industries awareness in the power of purchasing refurbished or used network equipment that has helped increase Baynetwork's revenue for expansion. The increase in awareness to further expand Baynetwork Inc.'s office space for operations of sales & equipment testing is directly related to the realizations behind virtualization where maximizing the available space in all network equipment and hardware allows for tremendous reductions in power consumption and hardware material related costs.
Since 1997, Baynetwork, Inc. a premier re-seller of new, pre-owned, refurbished and used network hardware equipment, used Cisco Routers, Juniper Switches, Dell Servers, Barracuda Firewalls, Ixia Testing Equipment, ShoreTel VoIP and many other premier IT hardware brands, has helped define and shape the secondary markets in the IT network equipment industry. From complete network design and configuration to security analysis and private cloud deployment, Baynetwork's array of managed IT services and rapid product procurement help thousands of companies deliver digital media and content across the globe with reduced costs and shortened lead-times. Baynetwork services also include IT network asset recovery, enterprise network security , data center IT hardware replacement and managed IT services.
The names of actual companies and products mentioned herein may be the trademarks of their respective owners.
For more information, press only:
Jason E. Sutherland, Marketing Director, (650) 561-8145, jason.sutherland(at)baynetwork(dot)com
For more information on Baynetwork, Inc.:
http://www.baynetwork.com