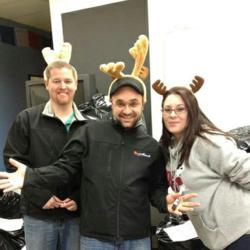 Making a difference in every way we can really brings great joy to our own lives.
Menlo Park, CA (PRWEB) December 24, 2012
On December 19, 2012 Baynetwork, Inc. helped hand out hundreds of toys for families at JobTrain in Menlo Park. Several days earlier, Baynetwork, Inc. employees also donated toys for the same handout that helped to bring an early Christmas to the children of families at JobTrain's Winter Wonderland.
As Baynetwork, Inc. increases market share and revenue giving back to the community has also grown in tandem. Being an active and giving Silicon Valley hi-tech business has also been a sharper focus throughout 2012 and the Baynetwork team has fully embraced this year's giving initiatives. "Selling premier IT network equipment typically helps us make other's lives better by affording us additional computing power and resources for business, but in this case our increased market share and revenue has provided our team of IT hardware experts the opportunity to give more back to the community."
JobTrain, established in 1965 under the OICW affiliation, is a 501(c)(3) non‐profit, educational and training institution accredited by the Western Association of Schools and Colleges. JobTrain also provides career counseling, job placement services and specialized programs for at‐risk youth. The organization is committed to eradicating the community's cycle of homelessness, poverty, substance abuse, unemployment, incarceration, low education levels and crime – all by empowering the individual through education and sustainable employment training. There's no higher premium than recognizing the potential in every JobTrain client.
Since 1997, Baynetwork, Inc. a premier re-seller of new, pre-owned, refurbished and used network hardware equipment, used Cisco Routers, Juniper Switches, Dell Servers, Barracuda Firewalls, Ixia Testing Equipment, ShoreTel VoIP and many other premier IT hardware brands, has helped define and shape the secondary market of the IT network equipment industry. From complete network design and configuration to security analysis and private cloud deployment, Baynetwork's array of managed IT services and rapid product procurement help thousands of companies deliver digital media and content across the globe with reduced costs and shortened lead-times. Baynetwork services also include IT network asset recovery, enterprise network security, data center IT hardware replacement and managed IT services.
#########
The names of actual companies and products mentioned herein may be the trademarks of their respective owners.
For more information, press only:
Jason E. Sutherland, Marketing Director, (650) 561-8145, jason(dot)sutherland(at)baynetwork(dot)com
For more information on Baynetwork, Inc.:
http://www.baynetwork.com