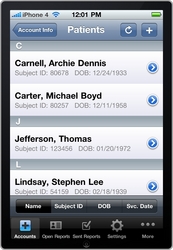 We are taking on perhaps the single largest EHR-adoption hurdle by combining mobile efficiency & usability with exceptional back-end work flows and structured data collection. This is true Win/Win – the Physicians get what they want – dictation; the industry gets what it wants – structured data
Orlando, FL (Vocus) September 27, 2010
BayScribe announced availability of BayScribe Mobile 2.2 for iPhone OS 4 today with a couple of key enhancements aimed at improving the Clinical Documentation workflow and ultimately EHR adoption and Meaningful Use adherence.
Physicians are mobile, with the vast majority practicing at at least three different physical locations. BayScribe believes that their documentation platform needs to be mobile as well. Physicians, especially Specialists and those within small practices, have lagged in EHR adoption and one of the primary reasons has been a strong reluctance to adopting point-and-click documentation methods. Providing better documentation tools has consistently been a point of contention within the vocal Physician community, and BayScribe believes their new mobile application is evolving into the premier mobile dictation application.
"This release incorporates some early feedback from our growing user-base. Physicians want simplicity and efficiency, and we are giving it to them. With BayScribe Mobile, a physician can rotate from facility to facility and download patient lists with the scheduled date and time of service to quickly and easily document encounters, all without having stop and dock it (a digital handheld) at a PC, truly optimizing efficiency," explained Steve Bonney, Vice President of Business Development at BayScribe.
The latest version of BayScribe Mobile will be available by October 1st but can be seen at the BayScribe booth (#311) today, and includes features such as multiple location support. BayScribe plans to unveil subsequent version this year and alludes to providing seamless login access to the BayScribe Platform to retrieve Clinical Summary Data generated from the NLP system.
"We are taking on perhaps the single largest EHR-adoption hurdle by combining mobile efficiency & usability with exceptional back-end work flows and structured data collection. This is true Win/Win – the Physicians get what they want – dictation; the industry gets what it wants – structured data," continued Mr. Bonney.
The application is available as a free download in the Apple App Store. An Android application with similar functionality will follow in 4Q2010.
About BayScribe
Established in 1999, BayScribe provides Cloud-based Clinical Documentation Solutions – Dictation, Speech Recognition, Transcription, Structured Data extraction & Document Distribution – for anywhere, anytime access of Clinical Reports with unparalleled performance and reliability. Every month, more than one hundred thousand clinicians in over 350 healthcare facilities rely on the BayScribe platform to capture and deliver their reports.
For more information visit the company website at: http://www.BayScribe.com. BayScribe, Inc. | 11 Dark Star Court | Edgewater, MD 21037 T: 888-801-0106.
# # #