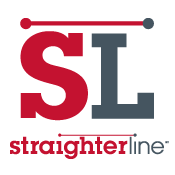 By partnering, Bay State and StraighterLine demonstrate our commitment to giving adult learners flexible and affordable options to achieve their degrees.
Baltimore, MD (PRWEB) September 10, 2012
StraighterLine (StraighterLine.com) announced today that Bay State College (baystate.edu/) has joined their rapidly expanding network of partner colleges who award college credits to StraighterLine students who enroll in their school. To encourage StraighterLine students to choose Bay State College, they are offering a 10 percent tuition reduction on their Associate and Bachelor Degrees and programs*. This means now that StraighterLine students who successfully complete StraighterLine's online college courses and transfer their courses to Bay State College can continue saving money as they pursue their degree.
Bay State shares StraighterLine's commitment to professional advancement, including a focus on careers and jobs, both while in school and after graduation. Bay State students have the opportunity to intern at some of the best companies in the nation, while networking with employers and alumni who can open doors to some of the Northeast's best career opportunities. Bay State College has an 81% in-field job placement rate. And the College offers lifetime career support and guidance services.
Together, Bay State College and StraighterLine offer all students the opportunity to get a quality education online, at their convenience, at a substantially lower cost than most traditional degree programs. Students can take freshman and introductory-level classes through StraighterLine and save thousands of dollars on the cost of their college degree. With StraighterLine's affordable subscription pricing plan, students can save up to 90% on their first year of college and can move through the material as quickly or slowly as they like.
Currently, StraighterLine offers thirty eight entry-level online college courses, including College Algebra, Precalculus, Calculus I, Calculus II, Business Writing, Introduction to Biology, Introduction to Biology with lab, General Chemistry I, General Chemistry I with lab, English Comp I, English Comp II, Accounting I, Accounting II, Managerial Accounting, Macroeconomics, Microeconomics, Business Statistics, Anatomy & Physiology I & II, each with a lab option, Medical Terminology, Psychology, Introduction to Business, Introduction to Criminal Justice, Introduction to Nutrition, Introduction to Sociology, Western Civilization I, Personal Finance, Pharmacology I, Pharmacology II, United States History I, Physics I with lab option and three developmental courses.
"By partnering, Bay State and StraighterLine demonstrate our commitment to giving adult learners flexible and affordable options to achieve their degrees." Burck Smith, CEO of StraighterLine.
"Bay State College is thrilled to be partnering with Straighterline," said Chip Bergstrom, Vice President of Enrollment & Marketing at Bay State College. "Making college more affordable and convenient was behind our decision to offer fully-online degrees at Bay State College. This strategic partnership with Straighterline builds on that promise and gives students a more flexible and direct pathway to receive their degree."
About Bay State College
Bay State College is a private college whose mission is to provide students with a quality education that prepares them for professional careers and increasing levels of higher education. Bay State College accomplishes this mission by providing a learning environment where teaching excellence and student services are blended to support the uniqueness of individual students, preparing them to achieve their full potential as ethically and socially aware citizens. For the third consecutive year, Bay State College has been named to the President's Higher Education Community Service Honor Roll with Distinction, the highest federal recognition a college or university can receive for its commitment to volunteering, service-learning and civic engagement.
About StraighterLine
StraighterLine has been recognized as a revolutionizing force in education by major news organizations and the U.S. Chamber of Commerce for offering students online courses that earn real college credit for just $99 a month. Fast Company named StraighterLine one of the "10 Most Innovative Companies in Education."
In order to facilitate the award of credit, StraighterLine has forged partnerships with leading accredited online colleges and universities. A student ultimately earns a degree from those institutions but realizes tremendous savings and convenience by starting with StraighterLine.
StraighterLine's courses are evaluated and recommended by the American Council on Education's College Credit Recommendation Service (ACE CREDIT). In addition to the institutions with which StraighterLine has a direct relationship, more than 300 other schools are reported to have accepted StraighterLine coursework for transfer credit.
Currently, StraighterLine offers 38 entry-level college courses online in the Sciences, Humanities, English, Math and Business. 5 StraighterLine courses have been approved by The College Board to be listed as AP courses: AP Macroeconomics, AP Microeconomics, AP English Language and Composition, AP Calculus AB and AP Psychology. And dozens of StraighterLine courses cover the same subject areas as CLEP exams, making them acceptable alternatives to or preparations for those tests.
For information, visit StraighterLine.com or call 1-877-str8erline (1-877-787-8375).
*Certain restrictions apply.
###