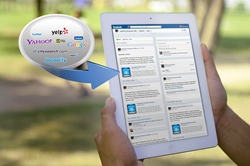 Bazaarify auto-posts the best customer reviews to Facebook, resulting in repeat business and referrals.
Sunnyvale, CA (PRWEB) June 25, 2013
Bazaarify, an emerging leader in Business Reputation Management™ (BRM), today announced general availability of their innovative Facebook app that allows businesses to automatically aggregate customer reviews from leading websites and directly post the best ones to their Facebook page. In doing so, Bazaarify extends the reach of its software-as-a-service platform - from collecting authentic reviews and enabling business-to-customer dialogue, to amplifying positive reputation across web and social channels. All this, while also attracting the keen attention of search engines hungry for fresh, relevant content.
For most businesses, it is challenging enough to create great products and services that meet broad customer needs, and also respond to individual customer preferences. Lurking beyond that, however, is the great big world of customer feedback—where the business reputation (and well-being) is on the line 24/7. Consumers are now posting their opinions on leading sites like Yelp, Google, Yahoo, and Foursquare. While tools exist to monitor what's being said on the Internet, businesses need the ability to promote their positive social interactions.
As an example, consider a gourmet restaurant chain that regularly gets reviewed on sites like Yelp and Google and has 1000's of fans on Facebook. These customer communities are currently disjointed. Bazaarify's platform brings them together to benefit the businesses and their customers. As new reviews get submitted to these review sites, the Bazaarify app gathers them and automatically posts the best ones to a business' Facebook page, where they are visible to fans and visitors.
"Most businesses today spend a considerable amount of time and money to engage their customers on Facebook. They post pictures, upload relevant content and offer coupons. All this is to get repeat business and word-of-mouth referrals," says Naveen Gupta, CEO at Bazaarify. "Our new integration allows businesses to automatically post their customer experiences to Facebook. The end result is a boost in social engagement, repeat business and referrals."
Here are examples of businesses that are already taking advantage of Bazaarify's Facebook app: enterprises, restaurants, doctors, lawyers, and spas.
Availability
Bazaarify's all-inclusive service includes a 30-day free trial that requires no credit card. Call sales at 1-800-561-3357 or sign up at http://birdeye.com
About Bazaarify
Bazaarify is an innovative Business Review Management™ (BRM) platform that creates powerful yet affordable tools so businesses can proactively listen to their customers, act upon feedback, and promote their good reputation across the web, social media and search engines. The company is based out of Sunnyvale, CA and led by entrepreneurs with diverse backgrounds in Internet and social media from Silicon Valley companies such as Yahoo, Google, Amazon, and Cisco.
For more information, contact William Moeller
william(at)birdeye(dot)com | 408-457-1348 | 1-800-561-3357 | http://birdeye.com