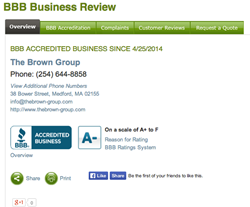 We are excited to receive the accreditation and join businesses around the nation in providing good business and services to consumers
Boston, MA (PRWEB) April 30, 2014
The Brown Group Worldwide, a Public Relations and Marketing Management firm in Massachusetts, received accreditation from the Better Business Bureau last week. "We are excited to receive the accreditation and join businesses around the nation in providing good business and services to consumers," Darius Brown, Managing Partner of the firm said. With the awarding of this accreditation the company also announced it plans to release a number of new services to the public starting June of this year.
The services added include customized electronic press and media kits that the company explained differs from normal versions. "Our media division is excited to provide a customized and tailored product to seeking consumers and businesses wanting to connect to the digital world." Ericson Theodat mentioned, who also was promoted to the position of Partner. Theodat's appointment over the media division is expected to grow in the provisions of media-related and graphic design services and products.
The company expects to release its accreditation across its social media avenues and website, and create an initiative focusing on feedback processing and customer satisfaction to better provide high-quality service to its consumer demographic and business network.
The Brown Group Worldwide is a public relations and marketing management firm in Massachusetts that offers services in the fields of public relations, brand & image marketing, project management, and business consultation. The Brown Group Worldwide creates and maintains the effects of public exposure, marketing campaigns, and project operations in support of individual and business agendas. With an energetic and available staff, The Brown Group Worldwide is capable of representing clients in their various business-related missions for the accomplishments of their professional goals. For more information contact the company online at http://www.thebrown-group.com.