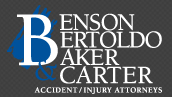 Students are the future leaders, and it's an honor to give back and provide them with the tools that will help them achieve goals and success
Las Vegas, NV (PRWEB) December 01, 2012
Benson Bertoldo Baker & Carter, a personal injury law firm and 30 year member of the Southern Nevada Community, announced this month that they will be starting a College Scholarship Essay Contest. The 1st Annual Benson Bertoldo Baker & Carter Essay Contest will begin on December 1, 2012 and run to March 1, 2013, and at the end one deserving high school student will be awarded a $5,000 college scholarship.
"Investing in our youth and education is of the upmost importance to us," said Brett Carter, partner at Benson Bertoldo Baker & Carter. "Students are the future leaders, and it's an honor to give back and provide them with the tools that will help them achieve goals and success."
Information about the Benson Bertoldo Baker & Carter 1st Annual College Scholarship Essay Contest can be found on the firm's Facebook page. Senior high school students enter by submitting a 3 page minimum essay on "The role of the civil tort system." The word "tort" means damage, injury, or a wrongful act done willfully, negligently, or in circumstances involving strict liability, for which a civil lawsuit can be brought. Fans on of the Benson Bertoldo Baker & Carter Facebook page can then vote on who they think the top 3 candidates should be, and Benson Bertoldo Baker & Carter will choose the winner from the top 3 vote getters.
This generous scholarship was donated with the intention of guiding a high school senior who has an interest in a legal field of study for their education. We hope you can assist us to spread the wording to reach these potential candidates. We look forward to making this 1st annual scholarship essay contest a success and a yearly addition to our community involvement.
For more information or to enter the Scholarship Essay Contest go to the Benson Bertoldo Baker & Carter Facebook page: http://www.facebook.com/BbbcAccidentInjuryLawyersLasVegas
For more general information visit the Benson Bertoldo Baker & Carter website:
http://www.bbbcaccidentinjurylawyers.com/