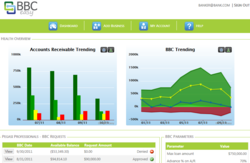 Seattle, WA (PRWEB) December 13, 2011
BBC Easy is a web service that revolutionizes the Borrowing Base Certificate process between banks and their borrowers. It provides bankers with a single place to manage their borrowers and gives borrowers an extremely simple way to fill out their required documentation. BBC Easy replaces the old process of printing reports and performing complicated calculations with a simple and intuitive 1-click action. This makes the lending process very easy and saves time for both the borrower and the banker. CEO James Walter explains: "Banks and other Financial Institutions can now simplify and automate their lending processes starting with their Borrowing Base Certificates. BBC Easy allows banks to improve their existing products and expand their lending portfolio to customers they may not traditionally service. This opportunity is why this funding round has been so well supported by investors."
Series A was funded by multiple private investors. Investor David Fennell touts: "The BBC Easy solution and the proven management team were key factors for deciding to invest in this round. We are excited to be at the forefront of this promising opportunity."
Mr. Walter adds: "This is an exciting time for the team at BBC Easy. With our robust Borrowing Base Certificate product and sufficient capital on hand, we are well positioned to build awareness of the value of BBC Easy while continuing to innovate in commercial lending. The timing is optimal to drive innovation in this market given regulatory pressure and the banks growing focus on efficiency and lending intelligence."
Banks and other financial institutions can evaluate BBC Easy today through their trial program. "Our trial program allows banks to see the benefits first hand with their customers. As a cloud based solution these banks can instantly realize new insights never seen before. The response has been extremely positive," says Joe Donahue, VP of Business Development.
About BBC Easy
Founded in 2010 by bankers and technology executives, BBC Easy is a Seattle area start-up dedicated to optimizing the commercial lending process between banks and their borrowers. BBC Easy's flagship product makes lending easier and smarter by automating the Borrowing Base Certificate process allowing banks to grow the profitability of their commercial lending portfolio.
# # #