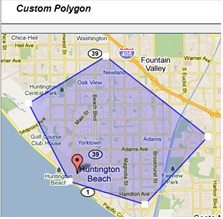 beta test clients (found) greatest benefit during client consultation
Cape Coral, FL (PRWEB) May 10, 2011
Cape Coral, Florida based direct mail marketing data provider BB Direct, a leader in postal mailing lists and opt-in email data solutions, adds mapping functionality to their already successful online count and order system. Unlike most mapping systems available, this new functionality enables direct marketers the ability to visually see and adjust their market territory in sync with running their normal mailing list counts and orders. It enables direct mail marketers the ability to visually carve their geographic market with pinpoint accuracy.
Incorporating Google mapping technology, users can now select geographies from a map through methods including defining a radius, a drive time, a hand-drawn polygon, and a number of postal geographic boundaries. Through the same interface, users are able to choose geographies that should be omitted from the selection.
Vice President of Operations, Sherri Wambolt says, "We saw an increasing demand for this technology and felt the investment would benefit most of our reseller clients." She added, "beta test clients are thrilled with its ease-of-use and practical application. They find the greatest benefit during client consultation where a quick visual representation of the market footprint can assist in their sales presentation."
BB Direct's online count and order system gives clients access to a selection of databases, including: Consumer, Property Mortgage, Business, Resident Occupant, Bankruptcy, New Mover and Social Media Database. The new mapping application is fully functional across all databases.
As a leader in direct mail and email marketing solutions, BB Direct's mapping integration empowers their client base with the most robust online technology of its kind.
About BB Direct
BB Direct is a provider of quality mailing lists and direct mail data solutions. They are located in Cape Coral, Fla. and can found on the web at http://www.bbdirect.com.
###