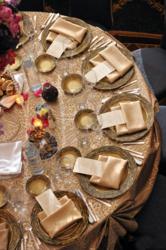 BBJ Tabletop, LLC will change the standard of elegance for events in Texas
Chicago, IL (PRWEB) November 03, 2011
BBJ Linen, the largest special event linen rental company in the United States, announced today the launch of BBJ Tabletop, LLC. This company will offer over 200 glass charger plate designs for rental throughout Texas. Unlike most rental charger plates, these are food and dishwasher safe, making them a versatile and elegant tabletop accessory.
"BBJ Tabletop, LLC will change the standard of elegance for events in Texas by making it easy to rent a variety of elegant chargers." said Bill Pry, Senior V.P. of Sales and Owner of BBJ Linen. "We want to make our chargers easily available to customers in all markets—first Texas, next other states!"
BBJ Tabletop, LLC is a partnership between BBJ Linen of Chicago, Magic Moments Parties and Events of Dallas and Mandarin Orange Trading Company of Chicago. Magic Moments Parties and Events will warehouse and distribute these chargers from their Dallas, Texas Headquarters, allowing easy distribution and set-up throughout Texas and surrounding markets.
"We are excited to be a part of this innovative company," Debbie Jordan, Owner of Magic Moments, says of the partnership. "We will be able to provide even more, top-of–the-line products to our clients, and by distributing locally from our warehouse, it will be simple for customers throughout Texas to be able to rent these upscale chargers."
BBJ Linen's new line of chargers creates an industry breakthrough as the chargers are setting new table top fashion trends. They can be used alone as chargers or to plate food for a unique presentation for starters, entrees or desserts. Event professionals, from planners and caterers to hotels and brides, will have the opportunity to use these chargers to enhance their events.
To learn more about BBJ Linen's product lines, contact them at 800-592-2414 or visit their website at http://www.bbjlinen.com. BBJ Linen showrooms in the State of Texas: Dallas (214) 651-9020; Austin (512) 310-1131; Houston (877) 522-1711.
About BBJ Linen
BBJ Linen is a pioneer in the linen rental industry. Their mission: To become the premier provider of décor linen to the special events industry on a national and international level through the depth and diversity of a quality product and dedication to unparalleled customer service. Since 1983, BBJ has led the industry by offering the best products, exquisite fabrics and unparalleled service to customers and events worldwide, facilitated by a state-of-the-art communications center in their Chicago headquarters. Their products have graced many of the world's most impressive events including the Emmy Awards, Super Bowls, US Masters Tournaments, the Kentucky Derby and events at the White House to name a few. With sales representatives in most major U.S. cities, BBJ Linen is the largest special event linen rental company in the United States.
BBJ Linen is interested in new business partnerships nationwide. To inquire about potential business partnerships with BBJ Linen, please contact Tina Summerfield, National Director of Sales at (847) 933-4618 or email her at tsummerfield(at)bbjlinen(dot)com
More information about BBJ can be found at http://www.bbjlinen.com, on Facebook at http://www.facebook.com/bbjlinen or on Twitter @bbjlinen. Their blog can be found at http://www.bbjlinenblog.com.
About Magic Moments Parties and Events
Magic Moments Parties and Events is a full-service event company specializing in unique event design and decor. They offer everything from in-house floral design to event lighting, drapery, theme decor, props, and custom decor and signage. Magic Moments is also the sole vendor in the Dallas/Ft. Worth area to offer interactive LED dance floors, tables and kiosks.
More information about Magic Moments Parties and Events can be found at http://www.magicmomentsevents.com, or on Facebook at http://www.facebook.com/pages/Magic-Moments-Parties-and-Events/45472907658, or on Twitter @magicmomentsinc.
About Mandarin Orange Trading Company
Mandarin Orange Trading Company is a manufacturer and importer of high-end designer porcelain and glass tableware. Their factories create over 100 million pieces annually in four production facilities and export products to 47 countries. With their vast warehouse capacity in Europe as well as facilities in the U.S. (in Illinois, Florida and Michigan), they can fill orders quickly and ship efficiently.
More information on Mandarin Orange Trading Company can be found at http://mandarinorangetrading.com
###