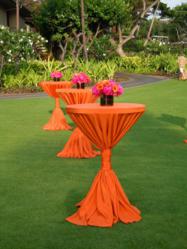 Entering into this collaborative alliance will allow our customers access to a very unique variety of products that will fulfill all of their rental needs
Chicago, Illinois (PRWEB) October 05, 2011
BBJ Linen and Atlas Party Rental entered into an agreement empowering Atlas Party Rental to be a distributor for BBJ Linen's extensive line of premiere linen, exclusive glass chargers and tabletop accessories for the Florida market; BBJ Linen's clients will have access to Atlas's extensive table, chair and furniture inventory in the Florida market, effective immediately.
This collaboration between BBJ Linen and Atlas will allow customers more choices and flexibility when planning their special events.
Randee Wechsler, an expert in the industry and President of Atlas Party Rentals explained, "My father, who started Atlas Party Rental 26 years ago always used to say, 'You can't dance at every wedding,' well Dad, now we can!"
"Our clients want to know their event is going to be flawless and they know that BBJ Linen will deliver every time. Entering into this collaborative alliance is extremely beneficial to clients of both companies as all of our customers will have access to a very unique variety of products that will fulfill all of their rental needs, no matter how large or small. We are extremely excited about our alliance with Atlas Party Rental", says Bill Pry, VP of Sales and one of the Owners of BBJ Linen.
The landscape of events has just changed in Florida. BBJ Linen and Atlas Party Rentals are thrilled to help their clients create spectacular events.
About BBJ Linen:
BBJ Linen is a pioneer in the linen rental industry. Our mission: "To become the premiere provider of décor linen to the Special Events Industry on a national and international level through the depth and diversity of a quality product and dedication to unparalleled customer service. Since 1983, we've led the industry by offering the best products, exquisite fabrics, unparalleled service to customers and events worldwide, and a state of the art communications center at our Chicago headquarters. With sales representatives in most major US cities, BBJ Linen is the largest special event linen rental company in the United States.
Learn more by contacting BBJ Linen at 800.592.2414 or http://www.bbjlinen.com.
# # #