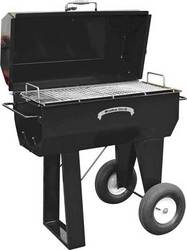 Pikeville, TN (PRWEB) March 18, 2009 -
Yoder's Smoky Mountain Barbecue, the leading online distributor of Meadow Creek BBQ Equipment, announces the launch of the new PR36 Backyard BBQ Smoker, a long lasting and highly versatile barbecue cooker for individuals and homeowners who love cooking for family, friends, and small crowds.
Meadow Creek's offering of revolutionary BBQ smokers, pig roasters, chicken cookers, and grills are designed and built by highly skilled craftsmen in Lancaster County, Pennsylvania. The company provides commercial-grade barbecue cookers to serious cooks across the nation, such as caterers, restaurants, and competition teams.
Besides maintaining the tradition of Meadow Creek's old fashioned quality, the 2-in-1 PR36 Backyard BBQ Smoker is ready for both grilling and smoking, and its price fits the budget of many backyard cooks.
This backyard smoker's cooking capacity services crowd sizes up to 75 people, but also works well for small family cookouts on the back deck and reunions in the neighborhood park.
The PR36 will cook a wide variety of meats (including whole pigs) and cook meat using the method you choose--either smoked with indirect, low heat or grilled with direct, high heat.
Yoder's Smoky Mountain Barbecue expects that this cooker will appeal mostly to individual homeowners and serious backyard cooks interested in a long-lasting, heavy duty charcoal grill and BBQ smoker all in one. The cooker can easily be converted from a charcoal grill with direct heat to a pig roaster for small pigs or a BBQ smoker with indirect heat.
For additional information on the new Meadow Creek PR36, visit the company's BBQ Smokers page in their online store.
About the company:
Yoder's Smoky Mountain Barbecue is the leading online distributor of Meadow Creek's barbecue equipment including a full line of BBQ smokers and other cookers. They provide free expert barbeque articles, videos, and other resources on their website. Their goal is to help barbecue enthusiasts enjoy profitable and easy barbecues for many years to come.
Contact:
Marlin Gingerich
Yoder's Smoky Mountain Barbecue
423-413-2644
http://www.smokymtbarbecue.com
###