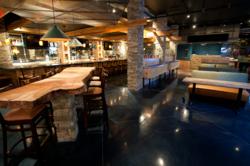 "Barbecue is more than just the food. It's about community, about fellowship. We want Pork Barrel BBQ Restaurant to be a gathering place for the neighborhood." ~ Heath Hall
Washington, DC (PRWEB) November 29, 2011
Pork Barrel BBQ is pleased to announce it has fired up its smoker and will open the first Pork Barrel BBQ Restaurant to guests tonight for dinner between 5:00pm and 10:00pm. Pork Barrel BBQ co-founders Heath Hall and Brett Thompson partnered with veteran restaurateurs "Mango" Mike Anderson and Bill Blackburn in 2009 with the goal of turning their dreams of creating a gathering place for the community centered around their national award winning barbecue into a reality.
The attention to detail and quality is ever present in the new restaurant. The owners literally have their hands in every detail from the hand-laid rock walls and columns to the one-of-a-kind beer tower constructed from sprinkler pipe by Blackburn himself. As for the barbecue, Hall and Thompson have climbed to the top of the professional competition barbecue circuit and racked up numerous awards for their 'que and sauces since the restaurant groundbreaking ceremony in October 2009. Pork Barrel BBQ has earned a reputation for their consistency in producing high quality barbecue and side dishes alongside some of the world's top pitmasters in the competition barbecue community.
"We are thrilled to be firing up the smoker and opening Pork Barrel BBQ's doors to customers today," said Hall. "Barbecue is more than just the food. In many ways it is the story of America with each region adding its flavor to the melting pot. It's about community and fellowship. We want Pork Barrel BBQ Restaurant to be a gathering place for this neighborhood and the entire Washington, DC community."
Pork Barrel BBQ takes great pride in serving quality barbecue that will please barbecue lovers from the Carolinas to Memphis and Texas to Kansas City. All meats are seasoned with Pork Barrel BBQ's award winning All-American Spice Rub and slow smoked over oak and hickory.
The menu includes Pork Barrel BBQ's take on traditional barbecue meats and side dishes. Customers can order ribs, brisket, pulled pork, chicken and sausage as a sandwich, platter or by the pound. Side dishes include BBQ baked beans, cole slaw, mac and cheese, smoked Ratatouille, collard greens, Texas caviar, potato salad and corn pudding.
Thompson and Hall are barbecue innovators who are, as Washington Post reporter Jim Shahin noted, on the brink of a new era. Since starting Pork Barrel BBQ in 2009, they've become the most recognizable winning entrepreneurs from ABC's hit reality show Shark Tank, been featured on numerous television and radio shows, where they share their BBQ tips with the everyday backyard barbecuer, launched the world's first barbecue-scented fragrance called Que cologne, started BBQ Backyard, a social media site and forum for the barbecue enthusiast, and are selling their award-winning sauces and spice rub in over 1,500 grocery stores across the nation. The Pork Barrel BBQ Competition Barbecue Team, led by pitmasters Hall and Thompson, has accumulated numerous notable awards including trophies for winning Grand Champion at the Safeway National Capital Barbecue Battle, becoming the Perdue National Chicken Champion, and having been named the nation's best BBQ sauce and one of the "125 Best Foods for Men" by Men's Heath Magazine.
For more information about the Pork Barrel BBQ Restaurant, visit http://www.porkbarrelbbq.com and read about their latest updates and adventures on Facebook, Twitter (@porkbarrelbbq) and the company's blog.
About Pork Barrel BBQ
Pork Barrel BBQ was founded in December 2008 during the peak of the economic crisis to prove that a company not owned or operated by the federal government could succeed, and that if you had a good idea, it was still possible to grab a piece of the American Dream. Pork Barrel BBQ founders, Heath Hall and Brett Thompson, ran the company out of the basement of their houses, selling their award winning BBQ products one bottle at a time. In less than one year, their Pork Barrel BBQ Sauces and Spice Rub were carried in over 1,000 stores in 40 states. Throughout their journey, they have stayed true to their mission – to unite the nation through the great tradition of BBQ, and bring bipartisan flavor to your next meal. The Pork Barrel BBQ Competition BBQ Team entered its first contest, The Safeway National Capital Barbecue Battle, in June 2009, and walked away with two trophies – Second Place in the "Nations Best BBQ Sauce Contest" and Fourth Place for their pulled pork in the Memphis In May portion of the contest. Since then, the team has won multiple awards, including the 2011 Perdue National Chicken Championship, the Safeway National Capital Barbecue Battle in 2011, the "Chinet People's Choice" award for best BBQ sauce in 2010 and other notable Memphis in May and Kansas City Barbecue Society BBQ competition accolades as well as having their Pork Barrel BBQ Original BBQ Sauce named Best Sauce in America and one of "The 125 Best Foods for Men" by Men's Health Magazine in November 2010. For more information, visit http://www.PorkBarrelBBQ.com or follow Pork Barrel BBQ on Facebook and Twitter (@porkbarrelbbq).
###