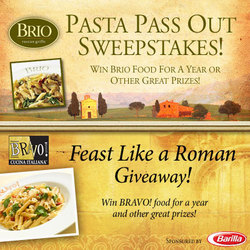 The 'Pasta Pass Out' offers something for everyone and is a great way to celebrate our love and our guests' love for one of the oldest and most cherished Italian dishes
Columbus, Ohio (PRWEB) October 15, 2010
BRIO Tuscan Grille (BRIO) and BRAVO! Cucina Italiana (BRAVO!) are celebrating Pasta Month in partnership with Barilla America® this October with a Pasta Pass Out (BRIO) and Feast Like a Roman (BRAVO!) Sweepstakes offering a grand prize of free BRIO or BRAVO! meals for a year, a second place prize of a Chef's Dinner for 8 and a third place prize of pasta for a year provided by Barilla®. Enter to win one of these delicious prizes October 11 through November 7 at http://www.facebook.com/brioitalian (BRIO) and http://www.facebook.com/bravoitalian (BRAVO!) or on Twitter at http://www.twitter.com/brioitalian and http://www.twitter.com/bravo_italian.
"The 'Pasta Pass Out' offers something for everyone and is a great way to celebrate our love and our guests' love for one of the oldest and most cherished Italian dishes," said Nicole Roope, BRIO Director of Marketing.
"The 'Feast Like a Roman' sweepstakes is a wonderful opportunity to thank our guests by offering a chance to feast on house specialties such as the crispy flatbreads, hearty pastas and mouth-watering desserts free from BRAVO! for a year," added Wendy McReynolds, BRAVO! Director of Marketing.
"We're excited to commemorate pasta month by sponsoring this sweepstakes," said Steve Napoli, Director of Foodservice for Barilla America®. "The best Italian meals are always about bringing people together and celebrating the good life. There's no better way to do that than with Barilla pasta!"
Both BRIO and BRAVO! encourage guests to enter the sweepstakes at facebook.com/brioitalian and facebook.com/bravoitalian to learn more about Pasta Month and to follow them on Twitter: @brioitalian and @bravo_italian. Winners will be contacted on or by November 15, 2010 and will be announced on BRIO and BRAVO! Facebook pages and Twitter feeds.
BRIO Tuscan Grille BRIO (meaning "lively" or "full of life") is a casual, white-tablecloth restaurant serving authentic, northern Italian cuisine. The subtitle, "Tuscan Grille" is descriptive in the menu that features wood-grilled and oven-roasted steaks, chops and seafood, similar to what one would find in an authentic ristorante in Tuscany. BRIO's philosophy is "to eat well, is to live well"; which is why they only use the finest and freshest ingredients. BRIO brings the pleasure of the Tuscan country villa to the American city.
BRAVO! Cucina Italiana is a casual, white-tablecloth restaurant offering classic Italian food amongst the shadows of Roman ruins. The subtitle "Cucina Italiana" means Italian kitchen, in which all cooking is done in full view of the guest, creating the energy of a live theater. BRAVO's popular entrees include grilled steaks, chops, and made-to-order pizzas, pastas and house specialties, similar to an authentic 'ristorante' in Italy.
BRIO and BRAVO! are concepts of Columbus-based BRAVO|BRIO Restaurant Group (BBRG). Founded in 1992, BBRG currently operates more than 80 restaurants including BRAVO! Cucina Italiana, BRIO Tuscan Grille and Bon Vie Bistro. Please visit the website for BRIO locations at http://www.brioitalian.com and for BRAVO! locations at http://www.bravoitalian.com.
Editor's Note: hi-res images are available upon request.
# # #